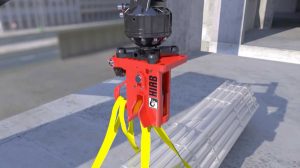 HIAB Hydraulic Hook: Big Value. Big Delivery.
HIAB's Hydraulic Crane Hook is big value – delivering big for your lifting operations, making them even faster, safer, more comfortable and more productive.
Like most HIAB accessories, it's designed with a specific purpose in mind. In this case, to pick up a pallet fork from the truck body. And this innovative little add-on is compact and robust, capable of lifting 4.5 tonnes.
Productivity is profitability. The easier an accessory is to use the greater the impact on your bottom line. And this hydraulic hook makes for big savings. It's quick, and simple to use with any kind of rotator, provides greater handling manoeuvrability, and lets you hook and unhook remotely and smooth hydraulics make for a more efficient workflow.
To a large degree, HIAB has built its name on safety. It's an important part of what's made it the world leader, and it's foremost here as well. A safety lock prevents the hook from opening unintentionally during operation. And because it's remotely operated, there's no need for the operator to risk climbing up and down the truck to attach or detach the pallet fork.
HIAB's Hydraulic Crane Hook is the latest in a long line of innovative crane accessories. They offer a range including Rotators, a patented ToolXChanger™, weighing systems, multi-coupling units, buckets, grapples, oil pumps, oil tanks, pallet forks, brick grabs, personnel baskets, stabilizers and stabilizer pads, bottle tank discharge units, manipulators, barrier lifters, power packs, earth drills and augers. All are available in Canada exclusively from Atlas Polar, and backed by its national sales and service network. They offer in-house financing as well.
HIAB seems to have everything you could imagine or wish for to customize your crane to suit your lifting business. And its hydraulic hook is all you ask for if what you're lifting is a pallet fork.