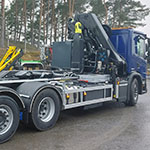 3 EQUIPMENT INNOVATIONS MAKE A SUSTAINABLE COMBINATION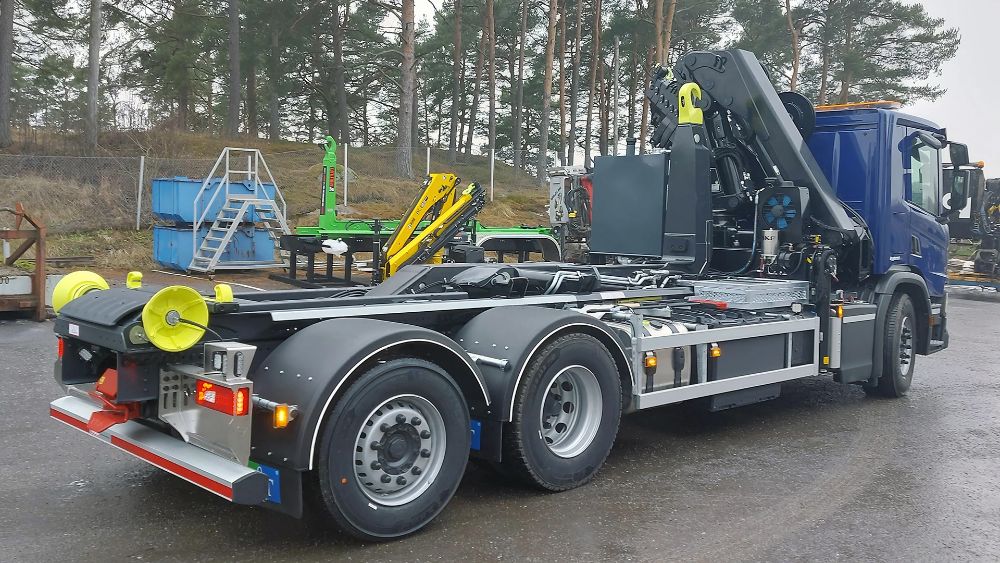 Our customers are often looking for more sustainable load-handling solutions. They are also ever-conscious of the competitive nature of their industries and the need to do more, perform better, be more precise, lift more, load more and deliver more. We drive to make our deliveries faster, safer, and more accurate. To be onsite more and in the service bay less, and to have their equipment be long-lasting and retain its value. That's a tall order.
HIAB has been doing a lot to make their truck-mounted cranes, Moffett forklifts, and Multilift hooklifts meet those needs. They are pioneering fossil-free, zero-emission steel use in their manufacturing, winning environmental awards and acing crash tests with their electric forklifts. They are committing to the 1.5-degree Global Compact Business Ambition. HIAB invests heavily in R & D to continually optimize capacity, flexibility, safety, accessibility, ease of use, precision and durability.
But the latest marriage of a HIAB X-HiPRO 232 E6 crane, a Multilif ULTIMA 21Z hooklift and a hybrid electric Scania P360 truck is a combination made to do it all in the best possible way.
The HIAB X-HiPRO 232 features six hydraulic extensions and reaches 17.3 metres. The Multilift ULTIMA 21Z has a range of performance and safety features aimed at the waste and recycling industry, from a low-profile subframe to a low centre of gravity, excellent manoeuvrability and stability that makes it perfect for loading and unloading containers. The Scania P360 electric hybrid truck can power those powerhouses while running emission-free, with the ability for extended range made possible by diesel.
For Lasilla & Tikanoja (LT), the combined equipment package puts the circular economy opportunities they promote to their customers into prominent practice. This Finnish company helps companies grab those opportunities. They include source sorting and reuse for environmental services, act as a leading support service partner at industrial sites, and provide technical, maintenance and other services for facilities sites to help them make the circular economy a reality.
So why are we talking about a heavy equipment package in Finland? Because it's a great idea that's coming soon for Canadian HIAB and Multilift customers. It's a big round globe, and the circular economy is an idea that needs to keep going around.