Moffett Truck Mounted Forklift, Daily Maintenance Checks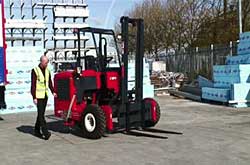 One of my previous blog posts was about our short introduction to the Moffett Truck Mounted Forklift. The next video in our series is a clip about daily maintenance checks. For both safety and longevity of your equipment, it is very important to perform daily maintenance checks on your Moffett Truck Mounted Forklift, regardless of the model. This quick video gives a surprisingly detailed demonstration of how to perform your daily maintenance check, starting with a walk around and including what to look for and where to find what on your machine.
Follow the sound advice in this video and you are ensuring a longer, healthier life for your investment. Perhaps more importantly, it will help promote and maintain a certain standard of safety and awareness for your operators when they are on the job.
Check out the short video and, if you have not yet, the intro video as well.