Are Traditional Handraking Methods outdated?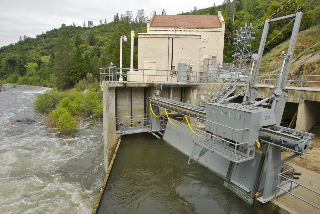 I have often been asked if I thought handraking methods are becoming obsolete. Lately, though, that question has evolved from "if" to "when".
Traditional handraking methods of cleaning hydroelectric and water control facilities is making way for more automated methods for clearing intake racks. Because of safety, moral, and cost considerations, many facilities have switched to an automated trash rake system. In fact, at my last count, over 300 facilities across North America have switched from traditional handraking to the Atlas Polar Hydrorake System.
Atlas Polar's Hydrorake System offers a host of benefits you simply cannot find with handraking. This economical and automatic trash rake system, which clears the intake racks of hydroelectric and water control facilities, maximizes flow efficiency with its 24 hour operation. Making the switch to this particular automated method increases the safety and morale of operators who currently hand rake brush and debris from intake racks. Another consideration is that the Atlas Polar's Hydrorake trash raking system operates even in the coldest weather which, as most of us know, ordinarily prevents hand raking.
Atlas Polar's innovative trash rake system imitates, improves, and eliminates the need for handraking, which reduces a facility's overall operations and maintenance costs. In fact, once the innovative Atlas Polar trash rake system has been installed, it provides cost savings so significant; it pays for itself very quickly.
Watch a short video of this trash rake system in action.