Atlas Polar Celebrates 70 Years in Canada
2008 marks the 70th anniversary of Atlas Polar. It is very exciting for us to be celebrating the long life of our company, but to truly appreciate our work with Canadian business, I believe that it is important to know a little bit about our history.
Atlas Polar, Canada's leading manufacturer and distributor of truck mounted articulated crane officially opened its doors in 1938. Atlas Polar started out as a privately held firmed owned by Joseph Ander. This new firm sold and serviced Polar and Atlas marine engines, and manufactured emergency generators using Waukesha engines purchased in the U.S.
Atlas Polar's history traces its rise as a Canadian industrial leader, consistently providing innovative solutions to Canada's construction and heavy equipment and materials handling industries.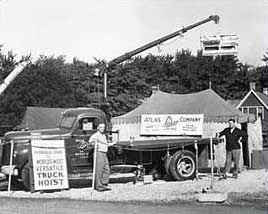 When World War II broke out and spare parts could no longer be obtained from overseas, Atlas Polar quickly established an extensive machine shop facility to build the spare parts that were required to ensure Canada's fleet of marine engines continued running throughout the war.
After the Second World War, Atlas Polar expanded its manufacturing plant and built a Canada-wide dealer network to sell and service its growing line of industrial and commercial engine products.
In 1948, Ralph Ander joined his father Joseph Ander and together they turned the closely held family company into a Canadian manufacturing leader. In 1953, Atlas Polar acquired the exclusive rights to manufacture and distribute the industry-leading HIAB articulated cranes in Canada, revolutionizing the Canadian construction industry with the introduction of their truck mounted hydraulic cranes.
Over the past 55 years Atlas Polar has continued to expand its manufacturing facilities, product lines and sales and service networks, firmly establishing itself as the Canadian leader in the material handling industry with its signature HIAB line of articulated cranes, its innovative Moffett Mounty truck mounted forklift system and Canadian distribution rights to the innovative Multilift Hooklift system.
Atlas Polar is also an industry leader in designing and manufacturing remote control operating systems for hydraulic cranes with its industry-leading Polar Remote Controls, and is the leading supplier of raking machinery for the hydroelectric and waterway industries.
To all of the hardworking people who we feel are part of the Atlas Polar family, including our workforce, friends, and customers, we would like to thank you for contributing to the success and innovations of Atlas Polar. Happy 70th, everyone!