M5 50.4PL NX 4-WAY
FIT + FULL CAPACITY SAME-SIDE UNLOADING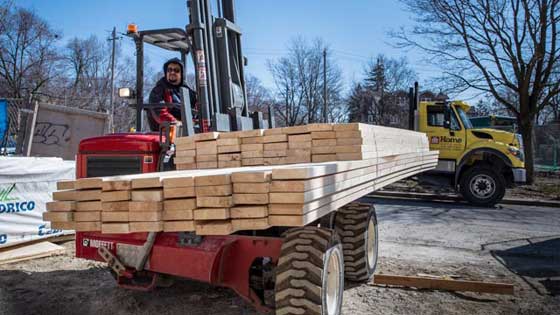 Move long loads sideways through tight, narrow spaces with 4-Way multidirectional control
Same-side full-capacity unloading across the width of the truck – even double-stacked loads
Save time + money. Enhance safety and productivity with new Ground Start®
Low maintenance + fast, easy servicing
Lower fuel costs + emissions with the DPF-free Kohler 48hp Turbo engine
The M5 50.4PL NX also cuts your unloading time dramatically on-site. It goes way beyond Pantograph reach to deliver a HUGE MOFFETT ADVANTAGE: patented Lift Assist® arms that will forever change the way you work. Only Moffett PL models let you unload full capacity loads from one side of the truck – even double-stacked loads. You'll never have to turn your truck around again.
Performance, ease-of-use and safety and features that make Moffett the Canadian Industry Standard (CIS)
Moffett M5 models are not only Canada's most popular choice for job site deliveries and Canada's #1 selling truck-mounted forklifts. They are the Canadian Industry Standard (CIS). Get on the road. Ease-of-use begins with money-saving one-person, one-minute mount and dismount from the back of your truck. Get started. At the job site, Ground Start® lets you power up your M5 50.4PL NX with the push of a button without ever climbing on the forklift to connect or disconnect transport chains. Want more? Opt for the patented, innovative Ground Mount® remote control system, and mount on and off the truck without ever getting on your forklift. Get working. An all-wheel-drive hydrostatic system with anti-stall for easy handling, two-stage retractable mast, integrated side shift and tilt functions make precise load positioning easy.
And keep on going and holding its value – right up to resale.
The M5 50.4PL NX is strong and robust, with the most efficient power-to-weight ratio in the industry. It's powerful, durable and built to last. Powerful: Thanks to a clog-free Kohler turbo diesel engine that's clean, quiet, has no DEF or burn times, saves fuel and lowers emissions. Durable: It has a refined, easy-access design that delivers improved visibility, makes servicing more accessible and reduces maintenance. Built to last: Like all Moffetts, the M5 50.4PL NX out-performs and out-lasts every truck-mounted forklift on the market. The proof: It has the highest resale value in the industry. Plus, it's supported by the experience and expertise of Atlas Polar and its #1 truck-mounted sales and service network in Canada.
Technical Specifications
Lifting Capacity: 5,000 lbs. @ 24" load centres
Lift Height (std.): 3040 mm / 120 in.
Engine Power: 48 HP Turbo (Tier 4 Final)