M5 50.4 NX
4-WAY FIT FOR TIGHT SPACES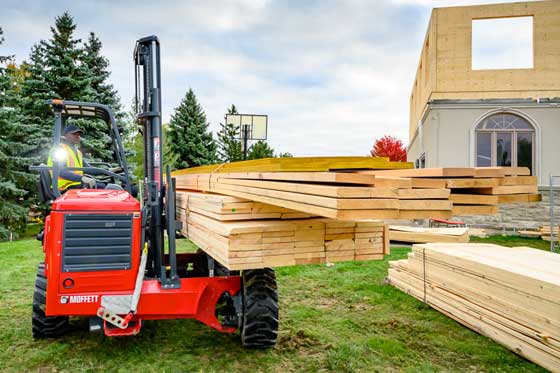 Faster, easier deliveries with 4-Way multidirectional control
Easily move long loads through tight, narrow spaces
Save time + money. Enhance safety and productivity with new Ground Start®
Low maintenance + fast, easy servicing
Lower fuel costs, emissions + down time with the clog-free, DPF-free Kohler Turbo engine
Highest resale value in the industry
Tight, narrow spaces made easy
Wondering how to move that long load through that narrow doorway, tight yard or navigate between cars on a one-way street? No problem with the Moffett M5 50.4 NX truck-mounted forklift. Its 4-Way multidirectional control gives you complete flexibility to negotiate tight spaces with wide loads. Moffett M5 models are Canada's most popular choice for job site deliveries and Canada's #1 selling truck-mounted forklifts. And no wonder! They're durable, powerful, and have the most efficient power-to-weight ratio in the industry. The M5 50.4 NX is robust, compact, lifts 2,268 kg (5,000 lb) to 3,040 mm (120 in) and safely cruises over any terrain with all-wheel drive.
Precision, push-button control, cost efficiency, comfort + safety
The M5 50.4 NX saves you time and money on every job, starting with a one-person, one-minute mount and dismount from the back of your truck. Delivering in the dark? No problem with its long-lasting LED work and street light packages – no waiting, no extra help needed. Getting started on the site is fast and easy too. Its Ground Start® feature lets you power up with the push of a button without ever climbing on the forklift to connect or disconnect transport chains. You can also customize your M5 50.4 NX with the patented, innovative Ground Mount® remote control system and mount on and off the truck without ever getting on your forklift. The M5 50.4 NX has a clog-free Kohler turbo diesel engine that's clean, quiet, has no DEF or burn times, saves fuel and lowers emissions. And its all-wheel-drive hydrostatic system with anti-stall and two-stage retractable mast, integrated side shift and tilt functions makes it easy to position your load precisely.
Built to stay on the road and hold its value
The M5 50.4 NX is strong and robust. Its refined design improves visibility and makes accessing and servicing components easier for faster, less frequent maintenance. Plus, it's a Moffett – the Canadian Industry Standard. That means it out-performs and reliably outlasts every truck-mounted forklift on the market. Plus, it's backed by Atlas Polar's unparalleled national sales and service network, #1 in Canada, and has the highest resale value in the industry.
Technical Specifications
Lifting Capacity: 5,000 lbs. @ 24" load centres
Lift Height (std.): 3040 mm / 120 in.
Engine Power: 48 HP Turbo (Tier 4 Final)