M5 50.3PL NX
EXTRA REACH + FULL-CAPACITY SAME-SIDE UNLOADING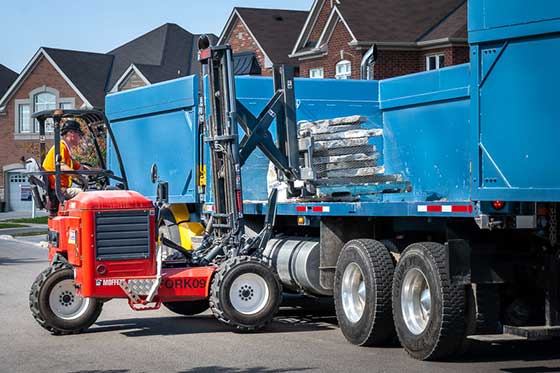 Outstanding reach + faster unloading – no need to turn your truck around
Same-side full-capacity unloading across the width of the truck – even double-stacked loads
One-person, one-minute mount and dismount; start without getting on the forklift
Lower maintenance + faster, easier service
Highest resale value in the industry
The HUGE Moffett Pantograph advantage
The M5 50.3PL NX has all the robust capabilities, safety and performance features of the standard M5 50.3 NX with Pantograph reach – and one HUGE MOFFETT PANTOGRAPH ADVANTAGE. Patented Moffett Lift Assist® arms go beyond reach to change the way you work. They provide safe, full-capacity same-side unloading across the width of the truck – even double-stacked loads. With the Moffett M5 50.3PL NX, you'll never have to turn your truck around again!
Inside-out, next-generation features and benefits that make it the Canadian Industry Standard (CIS)
The M5 50.3PL NX truck-mounted forklift, like all Moffett models, is Canada's best-selling forklift range for a lot of other good reasons as well. Its refined design reduces maintenance and makes for faster, easier service. It boasts an all-wheel-drive hydrostatic system with anti-stall and two-stage retractable mast, integrated side shift and tilt functions for easy, accurate positioning, and more: a multi-function hydraulic valve system and clog-free Kohler turbo diesel engine that's clean, quiet, has no DEF or burn times, saves fuel and lowers emissions. A FOPS/ROPS-certified overhead guard, unobstructed views, and LED transport and work light packages for anytime deliveries. A fully retractable Cover n Go™ seat cover to stay clean and dry. Remote GroundStart™ to get going without first climbing on the forklift and an optional Ground Mount® remote control system so you can even mount on and off the truck without ever getting on your forklift. And a lifting capacity of 2,268 kg (5,000 lb) up to 3,040 mm (120 in) with the industry's most efficient power-to-weight ratio and safety standards.
The strongest support. The highest resale value in the industry.
When it comes to the M5 50.3PL NX, it all adds up to significant savings that keep adding value – all the way to resale: the highest in the industry. Plus, it's backed by 80 years of expertise and experience from Atlas Polar, Canada's #1 sales and service network.
Technical Specifications
Lifting Capacity: 5,000 lbs. @ 24" load centres
Lift Height (std.): 3040 mm / 120 in.
Engine Power: 48 HP Turbo (Tier 4 Final)