M5 50.3 NX
COMPACT, MIGHTY AND UNSTOPPABLE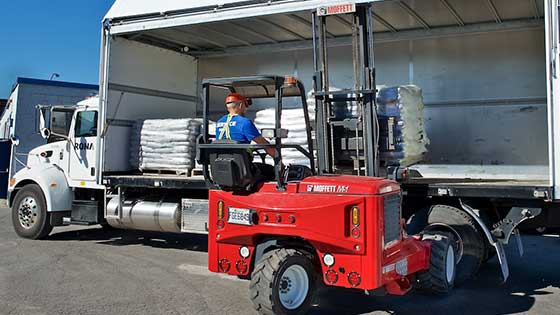 Ease of operation, capacity + stability on the most demanding jobsites
Save time + money. Enhance safety and productivity with new Ground Start®
Easy access + even more cost-effective servicing
Lower fuel costs, emissions + down time with the clog-free, DPF-free Kohler 48hp Turbo engine
Highest resale value in the industry
A versatile workhorse
The M5 50.3 NX is Canada's most popular smaller-sized pick for job site deliveries – and it's little wonder why. Its refined design is light, robust, provides improved visibility and makes accessing and servicing components faster and easier. An all-wheel-drive hydrostatic system with anti-stall and two-stage retractable masts, integrated side shift and tilt functions make it easy to position your load wherever you want it. And with a lifting capacity of 2,268 kg (5,000 lb) up to 3,040 mm (120 in), the M5 50.3 NX has the most efficient power-to-weight ratio in its class. That all adds up to peak performance on even the most demanding job sites.
And so much more to boast about!
The M5 50.3 NX saves you time and money every job, every day –and night – with one-person, one-minute mount and dismount, and long-lasting LED work and street light packages. Standard Moffett Ground Start® lets you push-button-power up your without ever climbing on the forklift to connect or disconnect chains. You can also opt for its patented, innovative Ground Mount® remote control system. Mount on and off the truck without ever getting on your forklift. The M5 50.3 NX's advanced multi-function hydraulic valve system is perfect for smooth operator control. And the 48hp clog-free Kohler turbo diesel engine is clean, quiet, has no DEF or burn times, saves fuel and lowers emissions, for significant savings that keep adding value.
#1 in Canada. #1 in every province. Moffetts are the Canadian Industry Standard
Moffett forklifts are the Canadian Industry Standard. They out-perform and outlast every truck-mounted forklift on the market. And that's reflected in their resale value – the highest in the industry. Plus, they're backed by Atlas Polar's unparalleled national sales and service network, #1 in Canada.
Technical Specifications
Lifting Capacity: 5,000 lbs. @ 24" load centres
Lift Height (std.): 3040 mm / 120 in.
Engine Power: 48 HP Turbo (Tier 4 Final)