X-CLX 528 Truck Crane
NOT JUST ANY BIG CRANE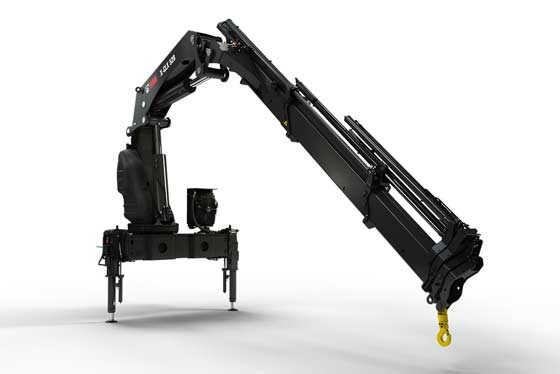 Lightest, strongest 3-axle mountable crane for maximum payload + fuel economy
Maximum protection for minimized wear + tear on parts and components
Intuitive, rapid-response movements on both sides with the X-CLX cross-control system
Unrivalled heat-free performance + high fuel savings with optimized hydraulic system
Redesign is lighter and more durable for bigger payload and bigger profits
Fast, simple installation + low lifetime ownership costs
If you have a three-axle truck, odds are you want the toughest, strongest, most powerful crane you can possibly mount on it. You also want it light for better fuel economy and payload. You want the HIAB X-CLX 528.
The X-CLX 528 is not just any big crane. It delivers more on every level.
It saves you time. Saves you money. It lets you deliver more with less weight and more control. Steering is simple, intuitive and fast – so you get the job done better and quicker. A manual cross-control system lets you operate identical lever sequences on either side of the truck eliciting almost instant response from your crane. And with five capacities to choose from, the HIAB X-CLX 528 gives you as much flexibility – on almost any flatbed truck – as you could want in any big crane.
And there's more
Strength and durability that go beyond the norm – built from light, high tensile steel, the X-CLX 528 delivers more payload – nearly 3,600 lb. up to 18.6 feet and out to nearly 48 feet – with less wear and tear. It's protected by HIAB's patented, rust-defying nDurance™ coating. Durable hoses are hidden and run through the boom structure to prevent damage. Slide pads never need greasing and an oil-filled slewing house keeps your gears lubricated and friction-free.
Choose your boom system for control in any situation – The X-CLX 528 has a heat-free, fuel-saving, high performance E-Link boom system that lets you use up to six hydraulic extensions to manage loads higher and further out from the truck. Safely angle the boom from 10-35 degrees with the innovative X-function. Get more flexibility by using the P-boom. It optimizes the E-Link system so you can use fewer but longer extensions – an even bigger boost of power for lifting in-close to the truck. Two more tough things to beat – reliable load holding valves, and easy-tilt stabilizer legs that add support in the most challenging job situations. And you can add available accessories like rotators, earth movers and a cost effective pallet fork.
Fast and simple to install – The X-CLX 528 is designed for minimal maintenance and maximum ease of use – grease-free slide pads, durable hoses that are routed through the boom for protection and an oil-filled slewing house that keeps gears friction-free and running smoothly.
Plus a two-year warranty and the backing of Atlas Polar's unparalleled national service network.
The new X-CLX 528 is not just any big crane. It's the one you want for your business.
Technical Specifications
Lifting Capacity: 9,800 kg @ 4.6 m / 2,840 kg @ 14.5 m
Max Hydraulic Outreach: 14.5 m