X-CLX 288 Truck Crane
QUITE SIMPLY, THERE'S NOTHING TOUGHER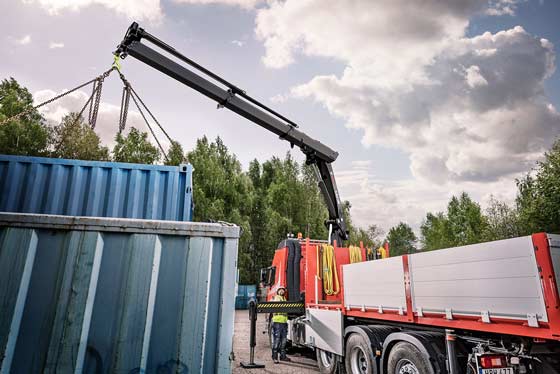 Maximum protection for minimized wear + tear on susceptible parts and components
Double-fast boom extension system
Safe, smooth intuitive movements on both sides with the X-CLX cross-control system
Unrivalled heat-free performance + high fuel savings with optimized hydraulic system
Redesign is lighter and more durable for bigger payload and bigger profits
Fast, simple installation + low lifetime ownership costs
It's been said there's nothing tougher than a HIAB CLX crane. And the CLX 288 puts tough to the test in heavy-duty work situations every day. It also makes those tough jobs simpler. And safer. And time saving. And money-making.
It's one tough manually operated crane. And what you get is tough to beat.
Works tough – in close, up high, far out and from either side. The X-CLX 288 comes in five capacities so you can get the crane you need. Its manual cross-control system makes steering simple and intuitive: operate identical lever sequences on either side of the truck and your crane responds almost instantly with safe, smooth, efficient movements. A heat-free, fuel-saving, high performance E-Link boom system lets you use up to six hydraulic extensions to manage loads higher and further out from the truck and you can safely angle the boom from 10-35 degrees with the innovative X-function. Get more flexibility by using the P-boom. It optimizes the E-Link system so you can use fewer but longer extensions – an even bigger boost of power for lifting in-close to the truck. Two more tough things to beat – reliable load holding valves, and easy-tilt stabilizer legs that add support in the most challenging job situations. And you can add available accessories like rotators, earth movers and a cost effective pallet fork.
Built tough, stays tough, Strength and durability that go beyond the norm – light, high tensile steel delivers more payload with less wear and tear. It's protected by HIAB's patented, rust-defying nDurance™ coating. Durable hoses are hidden and run through the boom structure to prevent damage. Slide pads never need greasing and an oil-filled slewing house keeps your gears lubricated and friction-free.
But so easy to own and maintain. The X-CLX 288 is fast and simple to install. It's designed for minimal maintenance and maximum ease of use for you, the operator – slide pads that never need greasing, durable hoses that are routed through the boom for protection and an oil-filled slewing house that keeps gears friction-free and running smoothly. It comes with a two-year warranty and it's backed by Atlas Polar's unparalleled national service network.
Now that's tough.
Technical Specifications
Lifting Capacity: 9,400 kg @ 2.5 m / 1,360 kg @ 15 m
Max Hydraulic Outreach: 15.1 m