X-CLX 218 Truck Crane
HIGH TENSILE. HIGH PERFORMANCE. HIGHLY DEPENDABLE.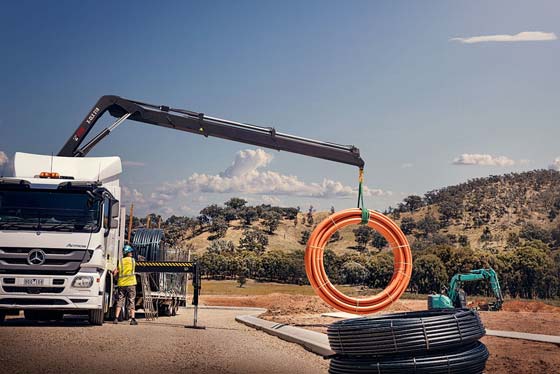 Maximum protection for minimized wear + tear on susceptible parts and components
Double-fast boom extension system
Safe, smooth intuitive movements on both sides with the X-CLX cross-control system
Unrivalled heat-free performance + high fuel savings with optimized hydraulic system
Redesign is lighter and more durable for bigger payload and bigger profits
Fast, simple installation + low lifetime ownership costs
The X-CLX 218 is HIAB's manually operated mid-range model in its new X-series cranes. It's dependable. It's versatile. It's easy to use. And it's everything you could want for a wide range of jobs lifting general cargo in heavy-duty applications. And, for a relatively low investment, it's a safe, solid, all-round solution for your business.
Why choose the X-CLX 218?
Because you can depend on it for lasting versatility, productivity and long-lasting life. It's less than 6,400 lb, has an outreach of nearly 50 feet, and will lift surprisingly heavy loads – up to well over 13,000 lb up close ­– so it's perfect for most any day-to-day job. its high tensile construction with patented, rust-resistant nDurance™ coating stands up to tough weather and tough punishment. Save money on maintenance too with grease-free slide pads, durable, protected hoses and an oil-filled slewing house that keeps your gears running smoothly and lasting longer.
Have more choice. Be more productive. Save time, money and fuel.
The X-CLX 218 is available in five capacities so you can choose what works for you. It comes standard with the patented X-CLX cross-control system. It has a series of levers that sequence the same on both sides of the truck for safe, smooth efficiency and each movement elicits an almost response in your crane. Easy-tilt stabilizer legs make even the most challenging job safer.
Lift and load double-fast with the X-CLX 218's standard link-free B-Link boom system. Need more outreach? Opt for the high performance E-Link system with up to six hydraulic extensions to position loads higher and further away from the truck. And it's heat-free so you get high fuel savings too. It comes with the X-function that lets you angle the boom between 10 and 35 degrees. You can also add a high seat, base-mounted oil tank and a range of accessories to make your job easier, like rotators, earth drivers and a cost-effective pallet fork.
The faster and easier a crane is to mount, install and maintain, the more productive you are. The HIAB X-CLX 218 gives you that and more. Plus it comes with a two-year warranty and is backed all the way by Atlas Polar's unparalleled national service network.
Technical Specifications
Lifting Capacity: 6,000 kg @ 3.2 m / 1,660 kg @ 10.5 m
Max Hydraulic Outreach: 10.6 m