X-CLX 148 Truck Crane
EFFICIENT. RELIABLE. AND READY TO WORK.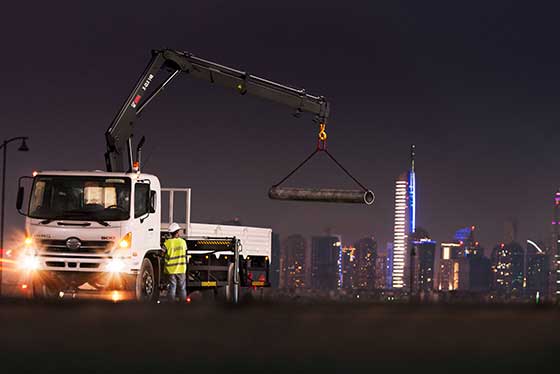 Maximum protection for minimized wear + tear on susceptible parts and components
Safe, smooth intuitive movements on both sides with the X-CLX cross-control system
Unrivalled heat-free performance + high fuel savings with optimized hydraulic system
Redesign is lighter and more durable for bigger payload and bigger profits
Highest resale value in the market
Total coverage with Canada's #1 coast-to-coast sales, service + support network
The HIAB X-CLX 148 X-series crane is one of the most versatile and reliable machines you'll come across. And it's there for you, ready to work, anytime, anywhere, that you are.
What makes this manually operated crane special?
A lot. The X is all about the next generation of cranes – unique and flexible. The CLX is about its cross-control system that lets you operate from both sides of the truck using an identical lever sequence, so load handing is always safe and efficient. The crane responds fast and accurately to each lever movement so you're done more quickly, and meanwhile its load holding valves keep your load securely where you want it.
In the X-CLX 148 that boom is a B-Link system. Essentially, it creates a crane without boom links – perfect for lift and load. But if more outreach is important, the HIAB E-Link system is available. With up to six hydraulic extensions, it allows higher positioning and lifts further away from the truck. And its heat-free design equates to major fuel savings. You can also add a base-mounted oil tank and a range of accessories including rotators, earth drivers and a cost-effective pallet fork.
Time is money.
That means your crane has to be efficient without compromising safety. The X-CLX 148 supports those smooth, efficient movements with easy-tilt stabilizer legs that support the truck regardless of crane position.
It means easy access, minimal maintenance and long-term reliability. The X-CLX 148 is made of high tensile steel with patented, rust-resistant nDurance™ coating and stands up to punishment. It has leak-free soft-sealed couplings, durable hoses are hidden away to protect them from wear and slide pads never need greasing. Its oil-filled slewing house is like an oil-filled bath for your gears – keeping them cool and reducing friction to last longer. The X-CLX 148 is easy to mount, fast to install, and keeps on working and looking good all the way to a high-value resale.
When you're ready to work, so is the HIAB X-CLX 148. It's as reliable as you are. In-house financing makes it readily available. Plus it's backed all the way by Atlas Polar. Our national service network is second-to-none – it's why we're #1 in Canada.
Technical Specifications
Lifting Capacity: 4,900 kg @ 2.8 m / 820 kg @ 12.7 m
Max Hydraulic Outreach: 12.8 m