X-CLX 102
MORE PROFIT MADE EASY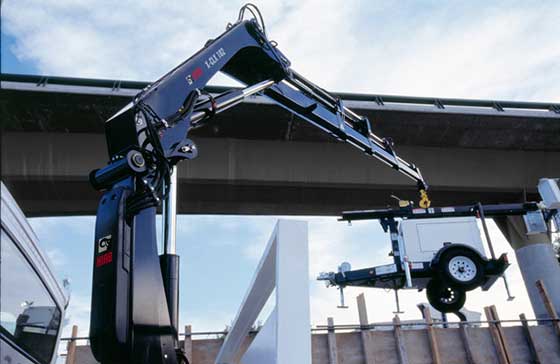 Durability, reliability + profitability – end to end
More time. More productivity: access lever sequences from either side of the truck
Flexible cross-control system with remote options
Weighs less. Lifts more.
Low maintenance features with fast, easy servicing
Top resale value in the industry
With the HIAB X-CLX 102, earning more doesn't mean working harder. Its innovative features and uncompromising reliability let you get more done with less effort. Simple. And that high earning ability keeps on delivering – day in and day out – until the day you decide to sell it when it delivers the highest resale value in the industry.
Nothing outperforms a HIAB. It's what's made it the #1 truck-mounted crane in Canada. The X-CLX 102 is just one of HIAB's vast range of modular, innovative models designed and built with the operator ease in mind.
Lift, reach and work from anywhere, any way you want
This lightweight truck-mounted articulating crane lifts 7,165 lb. (3,250 kg). It can also reach up to nearly 47 ft. (14.3 m). And it lets you work from seamlessly from either side of the truck – or from a distance away. The CLX manual cross-control system has the identical lever sequencing on both sides, and is, bar none, the best standard control system there is. Optional XSDrive™ or XSDrive Lite™ systems add even more flexibility, allowing additional remote control of the crane from the ideal position away from the truck. Load-handling valves on all boom cylinders get the job done faster too. And the automatic folding boom systems boost productivity. The X-CLX 102 comes with an ultra-fast, link-free B-link boom system that's perfect for lift and load jobs. Need something different? HIAB is all about customizing your crane for the job at hand. Opt instead an E-link inner and outer boom system to power up the X-CLX 102's lifting capacity in high-boom positions close to the column. Choose a D-link system for constant outer boom speed, or the short outer boom S-boom system to facilitate higher lifts close to the crane base. And with the X-CLX 102, one truck can do the job of many when you customize it with optional quick-attach accessories like pallet forks, earth drills, buckets, multi-brushes, and rotators.
Ownership is easy too and saves you money
With the X-CLX 102, day-to-day productivity and profitability is easy. So is long-term ownership: Its patented high tensile steel construction and protective nDurance® finish hold up under harsh Canadian conditions. Greaseless pads require no maintenance, and easy-access parts speed up servicing when you need it, so you're right back on the job. It's safe, dependable and easy to own from purchase to resale. And support is always there – from easy in-house financing to knowledgeable advice and training – from Atlas Polar, Canada's #1 national sales and service network.
Whoever said that increasing profits isn't easy didn't own a HIAB X-CLX 102.
Technical Specifications
Lifting Capacity:
3,250 kg (7,165 lb) @ 2.7 m (8'10")
390 kg (860 lb)  @ 14.2 m (46'7")
Max Hydraulic Outreach:
14.3 m (46'11")