X-CLX 058
LIFT MORE. DO MORE. WORRY LESS.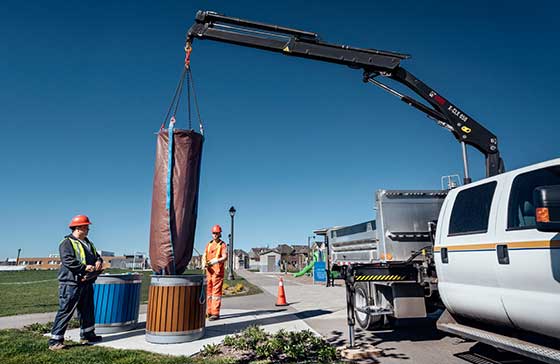 Amazing durability
Save time and effort: work seamlessly from either side of the truck
Absolute control with smooth response and robust valve technology
Low weight, high-capacity design =  more productivity
Less maintenance + faster, easier servicing
Highest resale value in the industry
You've got enough to worry about just managing your projects and making a profit. So the more your crane can safely and precisely lift and position, the more you can get done in a day. If you can do it all with greater speed and ease of use, and a crane that's dependable day in and day out, you not only lift more, you profit more and worry less.
Lift More. Do More.
The HIAB X-CLX 058 makes a big difference to your productivity. Its ultra-strong, high tensile steel construction combines low weight with capacity to lift heavier loads – up to 2,180 lb (989 kg) with an outreach up to 37 ft (11.3 m). Its X-style cross-control is the best manual control system there is, with mirrored lever sequencing so you can work from either side of the truck. It comes with a link-free B-link Boom system – doubly fast and ideal for lift and load. Its proven valve technology (load handling valves on all boom cylinders) helps you get the job done quickly, safely, and efficiently, so you can get more done. And easy-tilt stabilizer legs and a central column ensure stability to let you go all the way with confidence.
Want to do even more? Do it with the HIAB X-CLX 058. One person can do it all with greater precision, productivity, and autonomy with the optional XSDrive™ or XSDrive Lite™ wireless remote control system. Opt for a D-link for constant outer boom speed. Add a range of accessories including pallet forks, earth drills, buckets, multi-brushes, and rotators. They're easily attached and detached to make easy work of specific tasks without slowing you down or needing additional equipment.
Worry less
The X-CLX 058 maximizes your investment today, tomorrow, and beyond. Its patented nDurance® coating and high tensile steel design stand up under even the toughest conditions. Greaseless slide pads are maintenance-free. And when your X-CLX 058 is due for service, its easy-access design reduces costs and gets you quickly back on the road and back to work. The X-CLX 058 has the longest crane life in the industry, and its highest resale value. And it's supported by Atlas Polar's unparalleled national sales and service network – #1 in Canada.
Get more done and give your productivity, and mind, a lift. Ask us about the X-CLX 058 truck-mounted articulating crane.
Technical Specifications
Lifting Capacity:
2,180 kg (4,806 lb) @ 2.3 m (7'7")
310 kg (684 lb)  @ 11.3 m (37')
Max Hydraulic Outreach:
11.3 m (37')