Putting Moffett Forklifts to Good Use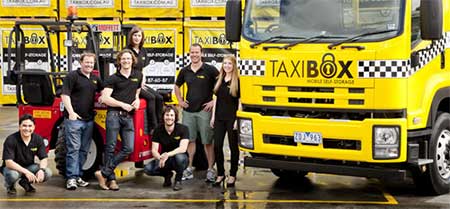 A few years ago, two very determined business owners formed a mobile self storage company called Taxibox. By implementing a great business model, which was to provide an easy and safe storage solution for home and businesses that were relocating, they have been enjoying rapid and successful business growth that continues today. To make this an easy process for both the new business and their clients, they implemented the use of the Moffett truck mounted forklift.
This new company, which is based in Australia, needed a piece of equipment that was able to easily handle storage containers to both move and stack them. The equipment had to be able to meet the challenge of maneuvering between stacks of container boxes. Plus, each storage unit contains valuable merchandise belonging to their clients and there could be no risk for a box slipping when being transported and stored. This meant that equipment was needed to get the job done with precision.
Taxibox turned to Moffett for their business equipment needs. Once the requirements were identified, it was just a matter of the HIAB Australia providers making some customized adjustments to make the equipment the perfect solution. The load centre of the Moffett was adjusted to 1.2 metres from its original 600 metres. Plus, rear mounting kits were added to the forklift to allow for easy access to the containers from the ground level, while lifting containers with ease to their storage location.
This goes to show that a quality piece of equipment, along with some customization can easily meet the needs of many different types of businesses in various industries. Any company that needs to move materials with precision should take a close look at the large selection of Moffett truck mounted equipment.