"Our Leaders Predict" Article with Bob Parr, President of Atlas Polar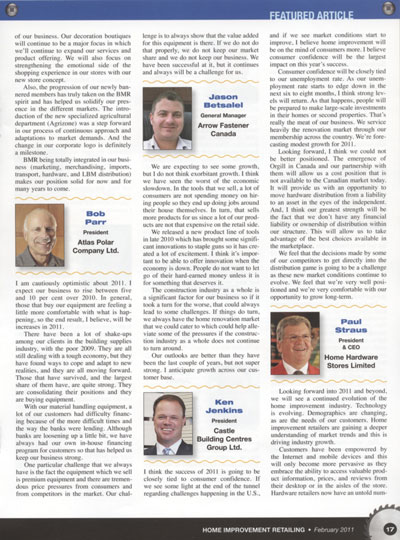 The February, 2011 issue of Home Improvement Retailing magazine asked a selection of industry leaders to predict how the home improvement sector will fare in the coming year.
Among the leaders they consulted is our own Bob Parr, President of Atlas Polar. In his remarks to the magazine, Bob talks about the difficulties faced by the building supplies industry in the poor economic climate of the past couple of years. Companies were forced to adapt to new circumstances and, he notes, most survived and are now stronger.
Given their newfound strength, these companies are starting to buy equipment again and Bob predicts a 5-10% increase in business for Atlas Polar this year. Atlas Polar is helped, undoubtedly, by the fact that we offer our own in-house financing programs to help customers who might have difficulty with the tighter lending rules at most banks. Here's the link outlining some of our financial plans for customers.
Although Atlas Polar faces price pressure, Bob believes that we have been and will continue to be successful at facing those challenges by communicating with our customer base about the tremendous quality of our equipment. The HIAB cranes, Moffett forklifts, Multilift hooklifts, Mixveyor concrete conveyors, and other equipment we sell is premium equipment, but our customers understand the added value in buying these top-of-the-line machines—longer life, lower maintenance costs, and better overall performance. We must also be able to show the value-added benefits of the Atlas Polar after-sales and service support network provided with this first-class equipment.
The entire article is available here in PDF format.