New HIAB Sea Cranes in Stock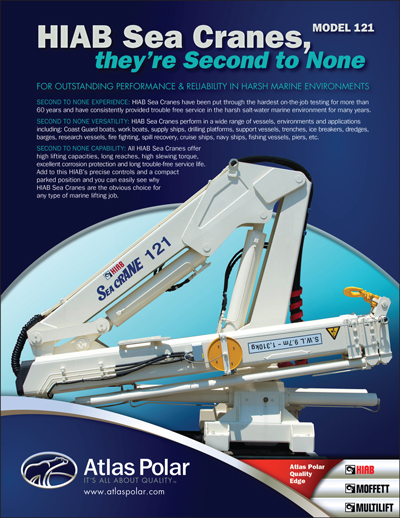 In-stock sea cranes from HIAB, the 061 and 121 have performed exceptionally well in the harshest marine environments. The leading manufacturer's impressive range of sea cranes serves a number of applications across a large capacity range. It is not a surprise then that HIAB has emerged as the default choice for industries such as fire and rescue, commercial fisheries and oil and gas, amongst others. With a history dating back to the post World War II era, sea cranes from the manufacturer offer the best of longevity, safety and versatility.
Coming back to the two stalwarts in HIAB's sea crane range, both have undergone rigorous testing to guarantee excellent performance and durability as far as all types of lifting jobs are concerned. Ease of maintenance is another important feature and definitely a much-welcome one especially when it comes to heavy equipment.
Sea Crane 061 has a 9.2m outreach and a 5.7tm lifting capacity. High-strength stainless steel pipes, pipe fittings and hose ends keep corrosion in key parts at bay. Adding to the durability and toughness are quality stainless steel fasteners and bolts. Precise control is aided by the V80 Marine Valve delivering special protection while double chrome treatment ensures trouble-free service and ample protection in the more demanding marine environments.
Sea Crane 121 also ticks all the right boxes and provides zero hassles as far as operation and maintenance go. A second boom link offers extra capacity, a more consistent hook speed and a longer outreach.