New ARW Truck Equipment Website Launched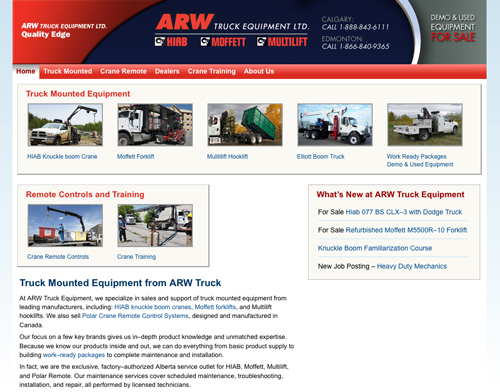 Anyone looking for truck-mounted equipment from Alberta's factory-authorized sales and service outlet ARW Truck Equipment, can now visit www.arwtruck.com to get a wealth of information. ARW offers equipment from top manufacturers, like HIAB cranes, Moffett forklifts, Multilift hooklifts and Elliott stiff booms.
The company's new site lists and explains all the available truck mounted equipment from the leading brands that it represents. In fact, ARW offers the largest selection of forklifts, hooklifts and picker trucks in the province. The product line caters to a vast range of applications and serves the material handling needs of several industries.
Basic specs apart, the descriptions clearly outlines key features of hooklifts, boom truck cranes and forklifts. Important and accurate product information for purchasers and owner/operators is presented clearly. Every product page also contains a PDF brochure that provides useful information and tips to those looking to invest in truck mounted equipment. You can also get a quick peek into the new arrivals at ARW Truck Equipment on the Home Page, where they are listed prominently (job seekers can also identify open positions at ARW in this list).
Excellent reliability is the hallmark of the branded truck mounted equipment available for sale on the ARW Truck Equipment site. Light duty and heavy duty cranes from top manufacturer HIAB have proven their performance, safety and durability for several years now. Moffett truck-mounted forklifts offer excellent maneuverability and many years of exceptional service. ARW also sells Multilift hooklifts, known for their versatility and for facilitating quick deliveries. For heavier loads and higher lifting capacities, Elliott boom truck cranes from ARW offer several options to deliver the control and power required for different tasks.
ARW Truck Equipment provides training courses for operators who wish to hone equipment handling skills. Information about the courses offered, course content, pricing and other details are available on the website's 'Crane Training' page. Dealer locations and addresses in Alberta, alongside Google Map for directions, are available on the site. Incorporating aesthetic design elements and all the information that potential buyers seek, www.arwtruck.com serves as a useful online resource.