Moffett M5 Forklift Transports One of the Fastest Jet Cars in the World to Famous Downing Street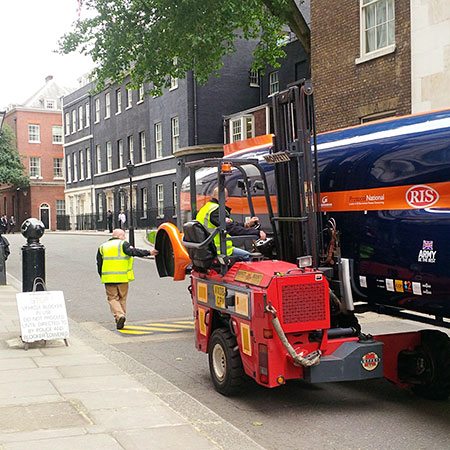 Anyone that has the opportunity to make use of the Moffett M5 forklift will be the first to tell you that it is a very impressive piece of machinery. As a result of its quality and reliability, it was given the role of  transporting one of the fastest jet cars in the world, the Bloodhound, during its journey to the famous Downing Street.
The Bloodhound jet car can easily be classed as futuristic with its supersonic structure and the goal of breaking the land speed record of over 1,000 mph later this year. It has the sleek look of a pencil thanks to its dynamic rocket design, which houses a jet engine that produces more than 135,000 horsepower. Plans for its record setting feats will begin later this year. In the meantime, this vehicle from the future is used for many promotional events as well as educational, which was the purpose for the Downing Street visit in July 2013.
This is one huge vehicle that is approximately 14 metres in length and weighs several tonnes. Although mighty in size, it presented no challenge for the Moffett M5, which was easily able to handle the maneuvering throughout the streets to deliver the Bloodhound to its destination on Downing Street. Anyone watching this exciting event would have to agree that the Moffett M5 and the Bloodhound supersonic jet car make a good team.
The purpose of the Downing Street visit was to arrive at #10 Downing Street to support Prime Minister, the Rt. Hon David Cameron MP in his announcement of the creation of 100,000 Engineering Technicians apprentice registrations by the year 2018. The presence of the Bloodhound was the source of inspiration to encourage students to take an interest in engineering and science to offset the looming possibility of a shortage of expertise in this area in the future.
With the amount of time, money and effort that has gone into the building of the Bloodhound, there is no doubt that it will be the guest of honour at many more events such as this. It is currently the responsibility of Arthur Spriggs & Sons to transport the vehicle for which they rely on the Moffett M5 to do this because of this equipment's reliability. It is lightweight, easy to operate, and handles different types of surfaces easily. It really makes sense that it would be the vehicle of choice for transporting such a precious commodity as the Bloodhound supersonic vehicle.