Introducing the New Atlas Polar YouTube Channel!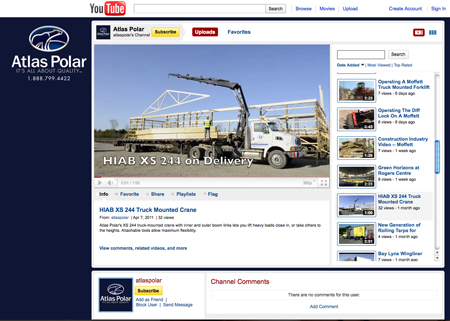 We have so many great video clips of our hooklifts, truck-mounted cranes, forklifts, and Mixveyor concrete conveyors that we decided to centralize them all in one easily accessible place online—YouTube!
Our new YouTube channel features a wide selection of short video clips that show our products in action:
Moffett truck mounted forklifts helping lay sod at the Rogers Centre (home of the Toronto Blue Jays) and digging out of the muck at the Irish National Ploughing Championships. We also have videos of Moffett piggyback forklifts being used in specific industries, including agriculture, gas, beverage, construction, and poultry.
HIAB knuckleboom crane videos show how easy these truck mounted cranes are to operate. Videos show the cranes placing roof trusses, lifting drywall to a balcony high off the ground, and lifting a pallet of garden supplies.
The Front-Discharge Mixveyor, with one clip emphasizing its features, including its removable hopper, radio remote control, 220º rotation, and the view from inside the cab.
We also have a great clip of our automated trash rake—the Hydrorake—which cleans screens at water intakes, hydroelectric dams, and fish processing plants.
We invite you to visit our YouTube channel at http://www.youtube.com/atlaspolar. We'd love to hear your feedback through the comments, and don't forget to "Like" your favourites. You can also subscribe so you can be notified about new videos we add.