Atlas Polar Sheds More Light on HIAB's Elevated Work System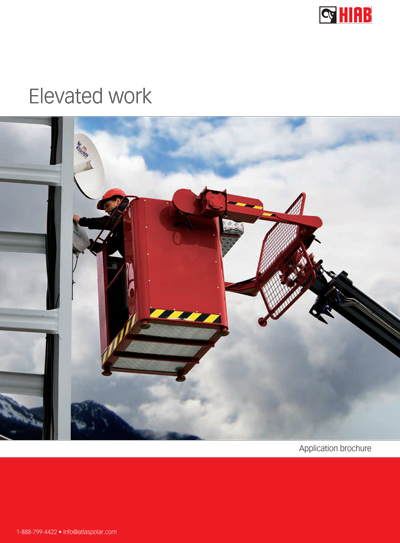 The introduction of personnel baskets for HIAB cranes has changed the way this equipment is used at work sites. HIAB's MEWP (Mobile Elevated Work Platform) allows operators to climb in and safely perform manual tasks like repairs. The MEWP can be attached to any HiPro crane from HIAB. The latest brochure from Atlas Polar focuses on various aspects surrounding the elevated work system.
Safety standards for such elevated platforms are governed by strict rules. Currently, the European standard EN 280 demands high safety requirements on the basket as well as the crane. Given HIAB's priority for safety, they adhere to all the safety standards strictly. The crane provides stability and protection while handling a range of materials from heavy construction materials to sand, gravel and soil.
HIAB's XS MEWP comes with a number of safety features like automatic horizontal leveling of the personnel basket, external safety rails, rotational and vertical speed controls, as well as backup battery and chargers loaded in the basket. In events of unexpected power loss, the XS MEWP is equipped with emergency lowering facilities. To maximize ground contact and ensure stability, MEWP is held by swiveling support plates. The personnel basket is also fitted with an emergency stop button.
Valuing the need for productivity and flexibility, HIAB focuses on simplicity in design as well as use. After the personnel basket is mounted atop the crane, it can be used by making a simple switch to the MEWP mode. The personnel basket enables operators to perform manual tasks at high altitudes like bridge inspections, trimming trees or maintenance and repair work.