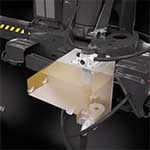 HIAB Cyclone Tank: A Whirlwind of Savings
HIAB has developed a whole new category of a hydraulic oil tank. They're calling it 'cyclone technology'– and it's a game-changer for your truck-mounted crane.
This easy-to-mount new accessory saves you money, space, weight and emissions. The HIAB Cyclone Tank uses 60% less oil to prolong the lifespan of your pump, oil and hydraulic systems. It lets you use less fuel and emits up to 600 kg fewer CO2 emissions a year. And it reduces the size and weight of the tank up to two-thirds for a significant increase in cargo space.
Traditional oil tanks are big and cumbersome and require more oil because of poor de-aeration – the air takes up space in the tank. HIAB's patented design dramatically speeds up this process while using less space and oil. Your oil is filtered more often, reaches working temperature faster and lasts longer. And over-pressure in the outlet prevents cavitation in the pump.
The result? HIAB's new Cyclone Oil Tank is literally a cyclone of speed and efficiency – spinning to circulate and filter oil faster than ever before to remove air up to 10 times more efficiently.
It's a whole new technology and a whirlwind of savings. The HIAB cyclone oil tank is taking the world by storm, and it's now in Canada.
HIAB Cyclone Tanks are covered by your HIAB warranty and installed and backed by Atlas Polar, the sole distributor of HIAB in Canada, and the #1 service network in the country.
Get ready for the HIAB Cyclone! It's ready to order and moving fast.
Watch it in action.