HIAB Crane Makes Slurry Spreading No Longer a Chore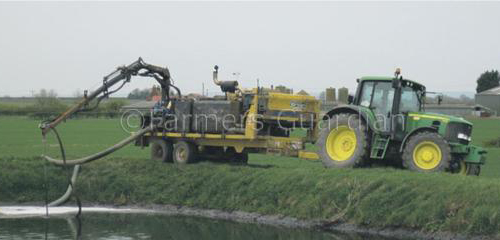 A custom pumping unit comprising a HIAB truck crane has come to rescue of a spreading contractor in East Riding. Neil Buckton found what he was looking for when he turned to Wox Agri Services to make available a customized pumping unit that could manage to spread over 200cu.m of pig and chicken slurry per hour.
Slurry is spread on crops to provide a range of valuable nutrients that benefit crop growth. But spreading the slurry efficiently and precisely across larger fields can be a problem if the right pumping equipment is not at hand. In Buckton's case, a pumping unit incorporating a HIAB crane, a Cornell pump, a compressor, and a Caterpillar engine (375hp), mounted on a DRT trailer measuring 25 feet delivered the required performance whilst meeting safety and health standards.
The HIAB crane maneuvers the unit's intake pipes into their position and lowers the centrifugal pump (a submersible, hydraulically-driven unit) to the slurry store's bottom. Forcing the slurry into the unit's main pump delivers the required efficiency without the need for sucking the slurry. The entire task is carried out by three men, with the person spreading the slurry easily able to adjust the slurry volume and application speed whilst he is remotely controlling the pumping unit. This also allows him to respond to pipe bursts and other emergencies much faster.
The pump is currently mounted on a tractor, but there are plans to create a self-powered pumping unit. This is the latest example of how a HIAB crane has proved its capability in an agricultural application.