Did You Know that the HIAB 174 Speedloader was Also an Elephant Feeder?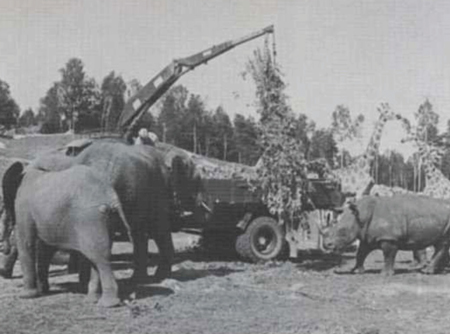 If you already know that present-day HIAB cranes have been used for animal-rescue operations, this blast from the past won't come as a big surprise to you: the HIAB 174 Speedloader was used to feed wild beasts in a Swedish zoo. Yes, even forty years ago, HIAB cranes came to the aid of animals, and not just the pet kind, but bona fide wild African animals! Amusingly, the Speedloader used for this purpose went by the name of 'Elefant'.
Elefant was mainly used for the zoo's transportation tasks. Clearly, the crane's more interesting job was delivering elephants, giraffes, rhinos and zebras their meals for the day. Exciting afternoons for truckers and a good dining experience for the beasts!
The HIAB 174 Speedloader was well-known for its far reach and flexibility. It was commonly used to hoist roofs in many parts of Europe as well as North America. The Hiab 174 Speedloader was more compact than bulky building cranes while offering the same reach. The extensions built into the 174 Speedloader allowed it to lift weights upto heights of eleven meters, almost four floors high. It is the same lightweight mechanism that allowed Swedish truckers to feed large animals like elephants and giraffes safely.
The Hiab 174 Speedloader's sleek design was also useful for other activities like pouring concrete into pipes and laying them in position. With great heating systems, power steering and a swiveling driver seat, truckers were at ease when handling the Hiab 174 Speedloader for lifting heavy objects, transporting loads or simply feeding grass to zoo residents.
Read more about HIAB 174 Speedloader used to feed the animals in a Swedish zoo.