Demo Multilift and Isuzu NRR Truck Package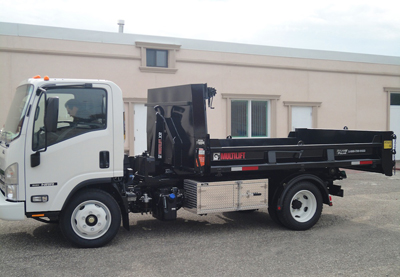 New in our demo and used equipment, we have an XR5N Multilift Hooklift and Isuzu NRR truck.
The XR5N hooklift is a proven performer that can move 11 to 14 ft. containers up to 12,000 lbs. With its low operating radius, it is ideal for moving containers in areas with low heights. And with a low weight in comparison to its lifting capacity, it allows you to move heavier loads, faster.
As with all hooklifts, the XR5N is known for its durability and low cost of ownership. It also includes advanced safety features, like: load-holding valves and a pilot-operated double check valve to hold loads even if a hose breaks; interlocks for safe operation of hydraulics; and excellent operator visibility. To read more, visit our XR5N Multilift hooklift page and download the product brochure.
The Isuzu N-series truck is a great addition to any materials handling fleet. Its low-cab forward-design offers more cargo space, tighter turning diameters, easy access to the engine through the 45-degree tilt cab, easier entry and exit, and better visibility.
For all the details on this great truck/hooklift combo, visit our demo/used equipment page.