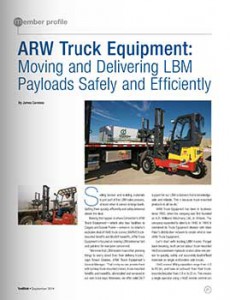 ARW Truck Equipment Proves to Be a Valuable Resource for LBM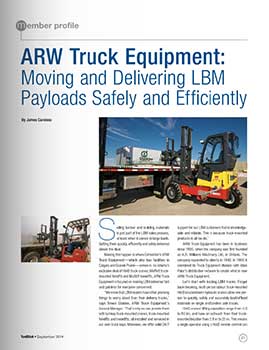 ARW Truck Equipment, a high-quality truck-mounted equipment provider, was recently featured in YardStick magazine for their ability to move LBM resources safely and efficiently. The article highlights the many benefits of using quality truck-mounted equipment for companies in the LBM industry; however, it is a useful resource for many different types of industries which need reliable, timely delivery and management of materials.
In this post, we'll take a look at how this equipment has not only helped many companies deliver and manage their goods, but also benefitted them and their projects.
Companies in the LBM industry require many different pieces of equipment, so having a large selection to choose from is important. This way, companies can save time and money because they can use selective equipment which meets their needs best. With locations in Edmonton, Calgary, and Grande Prairie, you can choose equipment from truck-mounted cranes for easy movement of heavy loads around a job site to truck-mounted forklifts for efficient, sole-operator loading and offloading of materials.
All of this equipment is conveniently installed and serviced in ARW's state-of-the-art truck bays, and because ARW focuses only on truck-mounted equipment, LBM customers are provided with 24/7 support with operating and maintaining their equipment.
Having a great selection of equipment is important, but so is efficiency. Truck-mounted HIAB knuckleboom hydraulic cranes provide a perfect example. Instead of inefficient, multi-person labour which is exhausting and time-consuming, these cranes make it possible for a sole operator to load and offload materials simply and safely, allowing for greater mobility on the job site and allowing the entire team to get the job done faster. This is because the crane's remote control puts the operator in full control, allowing the easy movement of materials around the job site. The lifting capacities of these cranes can range from 0.8 to 80 tm, with an outreach of 2.8 m to 25 m. Due to this, large loads can be moved around the job site without having to move the truck, solving the issue of obstacles in the way.
Companies requiring a forklift to move their materials have the option of the Moffett truck-mounted forklift, which mounts and dismounts in only 60 seconds. These forklifts also don't require counterbalances, allowing them to lift a load equal to their own weight and maximizing on efficiency. For safety, all of these come with features such as differential lock, beepers, and stabilizers.
The Multilift hooklift equipment is able to handle many body types, meaning that it's suited to loading and offloading many different types of containers and materials. This makes it a perfect resource for a variety of jobs. Due to the hooklift's low weight/high strength ratio, operators are able to load and offload a range of containers or materials in just 50 seconds, safely and efficiently.
Since ARW focuses only on truck-mounted equipment, they are ready to offer support any time. Whether you're on the job site or just looking for more information, ARW Truck Equipment has the expertise and reliability to make your job easier with their selection of high-quality truck-mounted equipment.