M8 70.3 NX
ALL THE HEAVY-DUTY FEATURES YOU APPRECIATE. AND MORE.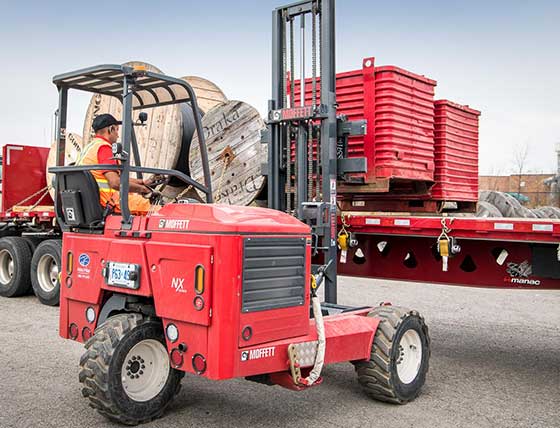 Extra lifting capacity for those heavy-duty deliveries
Lower fuel costs + emissions with the clog-free, DPF-free Kohler 56hp Turbo engine
Make more deliveries faster and more efficiently on your own schedule – no help required
Enhance productivity + safety with new Moffett Ground Start® mounting system
Better safety, comfort + productivity with the new NX package features
Do more. Save more. Optional Ground Mount® system lets you mount + dismount without ever climbing on the trailer or forklift
More power. More of everything.
The Moffett M8 70.3 NX provides the same reliable, versatility in a heavy-duty truck-mounted forklift as the M8 70.3 model you've come to rely on, boasting a powerful 7,000 lb. lift at a 24" centre, for loads up to a 12-feet. And with the addition of NX to its name it gives you even more, thanks to a host of new features that put safety, ease and comfort at the forefront.
The NX differences
The new NX package, now standard on all M8 NX models, makes for some powerful differences. The refined design is lighter and stronger than ever. It improves visibility. It's more fuel-efficient and makes accessing and servicing components – including the new multi-function hydraulic valve system – faster, easier and more economical. It has long-lasting LED work lights, streetlights and truck lights to make night time loading safer.
There's more. The new M8 70.3 NX is even faster and easier to mount, dismount and start – the only reason to get on the machine is to get started working. That saves time – every time – and with the thousands of deliveries you make can add up to major savings. The Moffett M8 70.3 NX comes standard with a unique push button Ground Start® system that lets you get going anywhere more quickly without ever climbing on the forklift. When you put that together with the standard remote start, cold weather deliveries get a whole lot better.
And there's more yet. Moffett Ground Mount® is a patented, fully remote control system that literally lets you mount on and off the truck without ever getting on your forklift. It's the ultimate time saver and is available as an option on all M8 NX series models.
Plus all the other standard features you've come to expect
A hydrostatic, full-time, all-wheel drive system. A powerful Tier 4 Kohler 56 hp Turbo diesel engine has lower emissions, and is DPF-free, so there's no filter to clog. Front-wheel parking brakes, an intake grid heater and block heater to keep you and your Moffett comfortable. A dash-operated hydraulic differential lock system, full-time anti-stall, and hydraulic telescopic stabilizers for greater stability, capacity + ground clearance. Plus, like all the Moffett forklift models, the M8 70.3 NX has the best resale value in the market and the support of Atlas Polar's unparalleled national sales and service network. That's an investment that quickly pays for itself.
One operator can deliver anywhere, anytime, night or day
Another thing that sets the M8 70.3 NX and all Moffett forklifts apart is their unquestionable productivity. With the unique Lower & Go® system, one-person can mount or dismount in under a minute. Pick up and deliver heavy, difficult loads from anywhere on a site at any time. You have everything you need – right there – to run your delivery business, your way, at your speed. There's no need to wait for help or equipment, no manual labour and no stress. You load or unload faster, are on the road faster, make more deliveries and earn more. Simple. You save time – every time – and, with the thousands of deliveries you make, can add up to major savings.
Technical Specifications
Lifting Capacity: 7,000 lbs. @ 24" load centres/3175 kg @ 600mm load centres
Lift Height (std.) 120 in/3040 mm
Engine Power: 56 HP Turbo (Tier 4 Final)