M8 55.4PL NX
POWER PLUS 4-WAY CONTROL + PANTOGRAPH REACH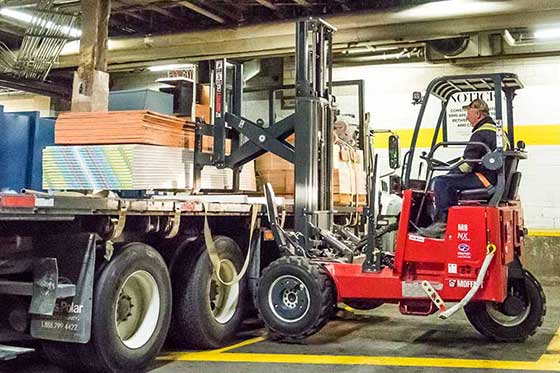 Speed up deliveries - unload your truck or trailer from one side, using Pantograph with Lift Assist®
Deliver directly to locations your truck can't reach: Manoeuvre long heavy loads through tight, narrow spaces with multi-directional control
Enhance safety and productivity with new Ground Start® mounting system
Lower fuel costs, emissions + down time with the clog-free, DPF-free Kohler 56hp Turbo diesel engine
Do more. Save more. Optional Ground Mount® system lets you mount + dismount without ever climbing on the trailer or forklift
4-Way manoeuvrability PLUS Pantograph with Lift Assist®
The Moffett M8 55.4PL NX is the most full-featured mode, with the added plus of a Moffett Pantograph reach system with patented Lift Assist® hydraulic arms - and 4-Way control! So not only can you manoeuvre long, heavy loads sideways through a narrow area with 4-Way steering, but the pantograph forks reach across the deck to lift and unload at full capacity. You never have to turn your truck around!
AND New NX features add safety, comfort, productivity + performance
NX features add a lot to the M8 55.4PL - an already great machine. The new M8 55.4PL NX has been refined to be lighter and stronger than ever. NX improves visibility. It's more fuel-efficient and makes accessing and servicing components including the new multi-function hydraulic valve system faster, easier and more economical. It has long-lasting LED work lights, streetlights and truck lights to make night time loading safer.
And best of all, the new M8 55.4PL NX is even faster and easier to mount, dismount and start - the only reason to get on the machine is to get started working. That saves time - every time - and with the thousands of deliveries you make that can add up to major savings. The M8 55.4PL NX comes standard with Ground Start®, a unique push button ignition that lets you get going more quickly without ever climbing on the forklift - no matter where you are.
Want more? Add Moffett Ground Mount® - a patented, fully remote control system that literally lets you mount on and off the truck without ever getting on your Moffett. It's the ultimate time saver and is an available option on the entire M8 NX series.
The Moffett M8 55.4 PL NX can easily lift and deliver a full 5,500 lbs from a single side up to a full 12-foot height. And like all Moffett forklifts it fits easily on the back of your truck - one-person can mount or dismount in less than a minute - so you can deliver more product with fewer people and fewer trucks. That means saving fuel, time and labour costs that go straight to productivity and your bottom line.
The combination of 4-Way and Moffett pantograph with Lift Assist® makes you more competitive than ever. You can pick and choose the order you load and unload, and deliver whenever and wherever you want - day or night - making it the favourite forklift choice for companies in the building supply, pipe, steel and general cartage industries.
Lower emissions + powerful handling
You want smooth, clean, quiet, comfortable operation no matter how challenging the load, and the M8 55.4PL NX gives you that in spades - smoother handling and lower emissions. All the NX models share a powerful Tier 4 Kohler 56 hp Turbo diesel engine with lower emissions that is DPF-free, so there's no filter to clog. Plus they have an intake grid heater and block heater to take the bite out of cold weather jobs. And hydraulic telescopic stabilizers provide greater stability, capacity + ground clearance.
Durability, productivity, in-house financing, support and the highest resale value in the market
The Moffett M8 55.4 PL NX is an investment that gives back for a lifetime. With Atlas Polar's in-house financing it makes it easy to own and maintain - Moffett forklifts have the highest resale value in the market. And they're backed by Atlas Polar's national service network - we're told it's the best in the business.
Technical Specifications
Lifting Capacity: 5,500 lb @ 24" load centres/2500 kg @ 600mm load centres
Lift Height: (std.) 120 in/3040 mm
Engine Power: 56 hp/42 kw (Tier 4 Final)