XS 111 Truck Crane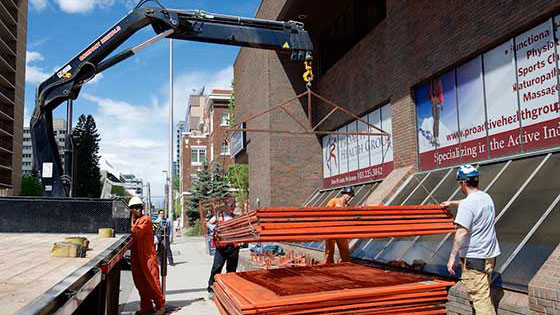 Save Time using a reliable HIAB crane for job site deliveries.
Be More Productive and Reduce Costs by delivering more product with fewer trucks.
Purchase with Confidence as HIAB has the highest re-sale value in the market.
Total Coverage with the strongest truck mounted crane sales & service network in Canada.
One of the newest additions in the 8 to 11 tonne metre class, the HIAB XS 111 crane is one of the toughest mid capacity range machines. Capable of withstanding grapple work and digging in tough environments, this versatile crane delivers precision with consistent performance. Available in multiple control systems like B–2 Duo, B–3 Duo, B–3 HiDuo and E–5 HiDuo, HIAB's XS 111 crane comes with a range of performance enhancing features.
This high performance crane comes with the E-link, an inner boom link that allows the crane to lift heavier goods closer to the column. The outer boom link allows the operator to lift loads to higher altitudes. As it does not jut out below the boom link, it does not obstruct the load placed below. The rack and pinion slewing is placed closest to the centerline for extra stability. This positioning also allows the HIAB XS 111 to experience equal outreach on both sides.
The slewing itself is placed in an oil bath to provide smoother and precise operation along with long term savings on repair and servicing costs while offering longer shelf life. The HiDuo control system used in the XS 111 is based on HIAB's Valve 80 technology. One of the best open centre valve techniques, Valve 80 offers reliability and precision during tough operations.
Complete with the functionalities offered by the SPACE 4000 system, this crane promises superior control over the electronic utilities of the XS 111. Supported by the XSDrive remote control, SPACE 4000's functions are centered on assisting operators in terms of productivity and safety. Specially designed to minimize physical stress on the operator, the XSDrive provides indicators and information while allowing the operator to carry out several functions with quick and easy actions.
The hexagonal boom profile of the crane ensures that it is balanced and supported at all times. Owing to the large support surface area, the design minimizes boom deflection and increases efficiency. The large slide pads attached to the crane minimize friction and keep maintenance costs low. With a wide range of attachable tools available, the HIAB XS 111 is one of the most versatile cranes in its class.
Technical Specifications
Lifting Capacity: 3550 kg @ 2.8 m / 480 kg @ 14.6 m
Max Hydraulic Outreach: 14.6 m