X-HiPro 658
Extra Power - Right Up Close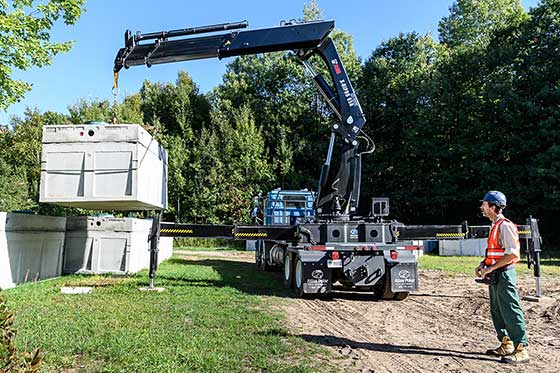 Compact, 'light' heavyweight has a 58tm capacity and a reach of 17m
Lift heavy bulky loads close to the truck bed with short boom + perfect weight to capacity ratio
Faster install + fewer lifetime ownership costs
Optimal fuel consumption saves up to thousands of litres and $ per year
Pinpoint precision + stability, the new LSS stability system needs no operator correction
One of the strongest and toughest cranes around, the HIAB X-HiPro 658 is a compact 'light' heavyweight crane with a short boom. It's designed with the operator in mind, and it's loaded with new features that add value and profits to your business. It features smooth, stable lifting, unmatched control, maneuverability, safety and reliability with heavy, bulky loads – right up close by the truck bed.
New features mean better safety, flexibility, stability + performance – good news for you, your equipment and your business.
Hydraulic, easy-tilt auxiliary legs that are integrated into the hydraulic and electronic systems for critical support, and provide quick, easy control.  The new VSL+ safety system senses leg positions and adjusts crane capacity to actual load stability – automatically. And the new LSS stability system eliminates operator correction. It automatically senses unintentional lever movement and counteracts it.
Quicker, easier set up, load and unload
With the new bolted, integrated sub-frame, your crane act as a single unit, ensuring a perfect fit. So delivery and installation times are faster and stress-free. Set up and stowing become infinitely faster with a new 9-metre chain-driven stabilizer span that nearly doubles extension time. And Installation, access and maintenance are simpler too, thanks to a new base-mounted oil tank. Plus, you get all the value, service and support you've come to expect from Atlas Polar.
9-metre chain-driven stabilizer span gives you almost twice the extension speed + saves time on set-up and stowing 
Auxiliary easy-tilt stabilizer legs support heavier loads + make set up easier
New features that let you load and unload more quickly and easily with greater safety, flexibility + precision
Innovations that add to the lifetime ownership costs
These new innovations build on HIAB's already unparalleled features, like Automatic Speed Control, Space 5000 intelligence, Pump Flow Distribution, Full Sequence Cylinders and Boom Deployment Assistant, and add value to your business every day – from purchase to resale.
Technical Specifications
Lifting Capacity: 10,100 kg @ 5.1m / 1,580 kg @ 22.2m
Max Hydraulic Outreach: 17 m