X-CLX 178 Truck Crane
BUILT FOR SPEED. MADE TO LAST.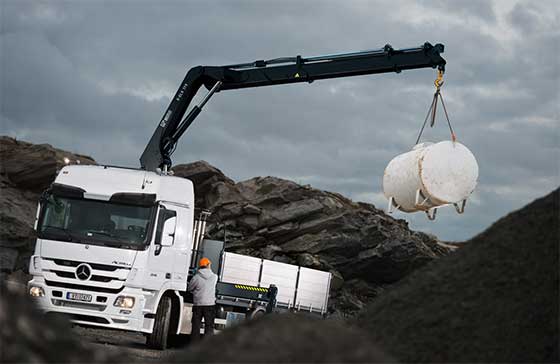 Double-fast boom extension system
Safe, smooth intuitive movements on both sides with the X-CLX cross-control system
Maximum protection for minimized wear + tear on susceptible parts and components
Lighter and more durable for bigger payload and bigger profits
Highest resale value in the market
Total coverage with Canada's #1 coast-to-coast sales, service + support network
The HIAB X-CLX 178 manual truck-mounted high-performance crane is sleek, fast, and easy to use. And you'll quickly realize that it's also built to last. It's one of four cranes launched by HIAB in response to extensive customer feedback that set the standard for a new generation of cranes.
Performance means the ultimate in precision, speed and lifting capacity
No matter what sector you work in, what you're lifting, or the demands on your crane, optimal performance is your number one priority. And the HIAB X-CLX 178 delivers to the next level.
It has enhanced heavy-duty lifting capacity – up to 5,100 kg. And reach – out to 16 metres with its hydraulic jib. Its B-Link boom system is nearly double the speed of its predecessor, and essentially creates a crane without boom links – perfect for lift and load. Need more outreach? Get the optional E-Link for higher positioning and lifts further away from the truck. The heat-free hydraulic system delivers smooth, precise operation, and significant fuel savings. You can also add a range of accessories including rotators, earth drivers and a cost-effective pallet fork.
In a crane that's made to last a lifetime
A truly high-performance crane should go the distance – and then some. The X-CLX 178 is equipped with innovations that protect your crane and its parts to minimize service and downtime you can't afford. Electrical components, durable hoses and leak-free soft couplings are hidden away to protect them from wear and tear. Slide pads never need greasing. And an oil-filled slewing housing reduces friction and acts like a cool, oil-filled bath for your gears. And its high tensile steel construction with patented, rust-resistant nDurance™ coating, your X-CLX 178 will keep looking as good as it performs for a lifetime –when you can part with it for the highest resale value in the industry.
And designed to be as operator-safe, sound and easy as can be
The X-CLX 178 is safe, ergonomic, easy to use, and fast and easy to install. Easy-tilt stabilizer legs support your truck no matter what position the crane is in. You can even get an optional integrated oil tank to make installation simpler yet. The X-CLX 178 sports an easy-to-understand control station. And best of all, it has controls on both sides of the truck, with identical lever sequence on both sides. Work safely, efficiently, and easily without turning the truck around. Plus the HIAB X-CLX 178 is just as easy to own and maintain, thanks to Atlas Polar's national sales and service network – #1 in Canada.
Technical Specifications
Lifting Capacity: 5,100 kg @ 3.2 m / 1,360 kg @ 10.6 m
Max Hydraulic Outreach: 10.8 m