X-CLX 128 Truck Crane
'X'TRA EASY DURABILITY AND PERFORMANCE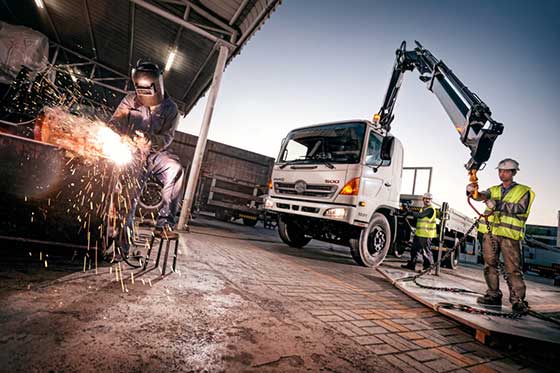 Double-fast boom extension system
Unrivalled heat-free performance + high fuel savings with optimized hydraulic system
Redesign is lighter and more durable for bigger payload and bigger profits
Fast, simple installation + low lifetime ownership costs
Highest resale value in the market
Total coverage with Canada's #1 coast-to-coast sales, service + support network
The X-CLX 128 is the first in a long line of HIAB's X-series mid-weight cranes. They're engineered specifically to respond to operators' demands for greater durability, performance and user-friendliness. And the X-CLX 128 delivers for lighter-heavyweight jobs.
The 'X' stands for next generations cranes. It means easy access in tight spaces and is also a clue to a simpler design that makes everything about this series smarter, smoother, lighter, more productive and easier to work with and own. And it's part of an overall redesign that adds value in every area. It's a versatile model you can count on to easily handle just about any day-to-day lifting and loading job. It has a big 15.1 m outreach and weighs only 1920 kg, but you'd be surprised at how much it can lift.
It's made to last. High tensile steel makes it lighter for more payload, and strong and tough for less wear and tear. It's coated with patented nDurance™, a high-tech finish that resists rust and defies the elements. Hoses are hidden away to avoid damage. And greaseless slide pads keep maintenance to a minimum.
It's made to perform. X-CLX refers to the control system – manually operated with levers that sequence the same on both sides of the truck making movements smooth, safe, efficient and intuitive. The crane responds rapidly to lever movements, so you're done faster and earning more. Easy-tilt stabilizer legs support you in challenging situations. The X-CLX 128 comes with a link-free B-Link Boom system – ideal for lift-and-load and double-fast. If you need more outreach, the optional E-Link system has up to six hydraulic extensions for higher positioning and lifts further away from the truck. The optimized system is heat-free for high-fuel savings.
And it's operator-easy. It's easy to mount. New construction and materials make it easy to access and easy to maintain. The innovative angle, boom features, stabilizer legs and CLX control system make it easy to get to work and get the job done fast and efficiently. And it's easy to own thanks to technological advances in finish and design, plus Atlas Polar's unparalleled national service network and in-house financing.
The X-CLX 128 comes with a host of options as well, including a range of rotators, earth drills and a cost effective pallet fork.
It's a great investment that delivers everything you need for great profitability – and then some.
Technical Specifications
Lifting Capacity: 4,300 kg @ 2.8 m / 500 kg @ 15 m
Max Hydraulic Outreach: 15.1 m