X-CLX 068
DOES MORE SO YOU CAN TOO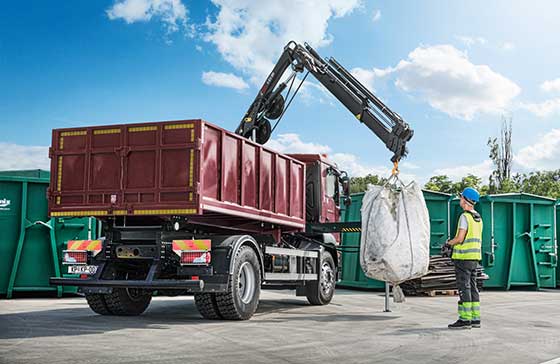 Amazing durability
Save time and money: work seamlessly from either side of the truck
Total control + smooth response with robust valve technology
Increase productivity with low weight, high-capacity design
Reduced maintenance + faster, easier servicing
Highest resale value in the industry
When you have a small truck, it often seems that there isn't enough of you to go around. Imagine a multi-purpose truck-mounted crane that can be used for most anything from general deliveries to waste and recycling, onsite lifting and mounting, and most everything in between. Enter the HIAB X-CLX 068: It does more, faster, to leave you more time for all of those other things calling for your attention. The X-CLX 068 doesn't just precisely lift and position 882 lb (400 kg) loads at a range of up to 37 ft (11.3 m) it does it all safely, with greater speed and ease of use. It's a crane that's dependable day in and day out. You not only lift more, you also profit more and worry less.
Do more jobs – faster, safer, with less effort
The HIAB X-CLX 068 makes business better and your life easier. Its ultra-strong, high tensile steel construction combines low weight with the capacity to lift heavier loads. It sports X-style cross-control that's the best manual control system there is, featuring the same lever sequencing on both sides so you can work from either side of the truck, saving time and money. Its proven valve technology has load handling valves on all boom cylinders to get the job done quickly, safely and efficiently. And easy-tilt stabilizer legs and a central column ensure stability to let you go all the way with confidence. And the X-CLX 068 comes with a link-free B-link boom system – twice as fast and perfect for lift and load jobs.
Still feel there are not enough of you to go around? The HIAB X-CLX 068 has a host of great options that do even more so you can too. With the optional XSDrive™ or XSDrive Lite™ wireless remote controls, one operator can do it all.  Opt for a base-mounted oil tank for even easier access. Change your B-link to a D-link system for constant outer boom speed, or an S-boom system. This short outer boom facilitates higher lifts close to the crane base. Need special tools for the job? Get them without the need for additional equipment. Pallet forks, earth drills, buckets, multi-brushes, and rotators are simple and easy to install and de-install without slowing you down.
Do more while worrying less
The X-CLX 068 is a worry-free investment that pays for itself for its entire life cycle. Its tough nDurance® coating, high tensile steel construction and greaseless slide pads minimize maintenance, and its innovative design makes servicing faster and easier, so you're back on the road getting more done. Dependable, reliable, the X-CLX 068 has the longest crane life in the industry and the highest resale value. And if you ever need help or answers, Atlas Polar's national sales and service network is #1 in Canada, and just a call away.
The HIAB X-CLX 068 truck-mounted articulating crane: Less to worry about and more time to do all the other things on your list.
Technical Specifications
Lifting Capacity:
2,640 kg (5,820 lb) @ 2.3 m (7'7")
400 kg (882 lb)  @ 11.3 m (37')
Max Hydraulic Outreach:
11.3 m (37')