K-HiPro 285 THE FASTEST 4-STOREY DRYWALL CRANE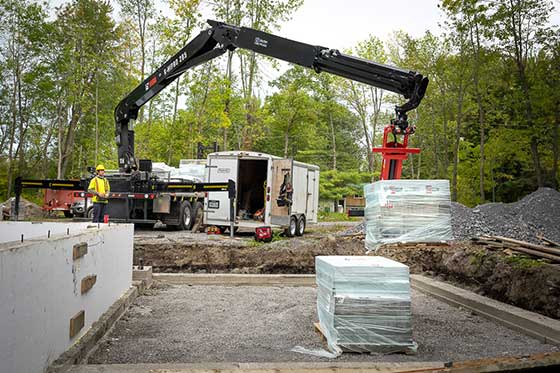 Lift up to 3,130 lbs. of drywall to 51'3" in a lighter weight crane
Available one-lever Crane Tip Control lets even inexperienced operators deliver easily with precision
Best-in-class Vertical Load Stability System (LSSV)
Industry-leading precision, reliability + proportional control with HIAB V200 valve
Fast, safe superior remote control with HIAB XS-Drive system
Low cost of ownership and highest resale value – It's a HIAB
The HIAB K-HiPro 285 is the fastest way to get your drywall load to four-storeys – and to do so with pinpoint accuracy and maximum control. It's just one of HIAB's K-Series truck-mounted folding cranes – designed and built for the drywall and construction industry with low weight, high lifting capacity, and the best load handling characteristics for its type. The combination of low weight and a clean boom system speeds up delivery and maximizes payload and profits. And they're reliably built to last, with sturdy construction, accessible parts, and minimal service thanks to lighter, long-lasting corrosion-resistant zistaplex pipes and an aluminum oil tank, plus next-generation DIN 24 leak-free soft-seal couplings.
The new HIAB K-HiPro 285 is a five-star, four-storey wonder. It safely lifts your drywall load to 3,130 lbs. to a reach of 51'3", and delivers it precisely where you want it – wherever that may be. Accurately place your load through doors or windows, over balconies, around obstacles or in narrow spaces. What's more, with the K-HiPro 285's innovative features, almost any operator can control the crane like a master, with its unique HIAB XS-Drive one-lever supervision.
How can the HIAB K-HiPro 285 do all this so fast, easily, and accurately?
Like all HIAB K-Series drywall cranes, the HIAB K-HiPro 285's HiPRO remote control system is the industry leader. Its unique features are key to controlling your difficult drywall loads in the safest, most efficient way possible.
That starts with best-in-class fingertip remote control. Operators can work safer and smarter from the ground, from the best working space and the best field of vision, and control up to 24 proportional functions plus up to seven easy on/off functions. If there are unintentional lever movements, the HiPro 285's load-dampening Vertical Load Stability System (LSSV™) kicks in to automatically compensate to keep operator, equipment, load and surroundings safe. And Automatic Speed Control (ASC™) lets you carry on past capacity with a 10% boost without ever stopping the crane.
One of the most important options is HIAB's state-of-the-art Crane Tip Control (CTC®). It calculates the perfect simultaneous boom movements and how to get your load to its destination with absolute precision and control with only three levers. Other options, like Semi-Automatic Folding (SAF) and Boom Deployment Assistance (BDA), save time, reduce downtime and minimize operator-learning time. The HIAB Multi-coupler and aluminum oil tank reduce service and help your HIAB last even longer.
Four more reasons to purchase a HIAB K-HiPro 285 drywall crane
Low maintenance and emissions. Durability and reliability. The highest resale value in the industry. And the support of Atlas Polar – Canada's #1 sales and service network for nearly 80 years.
Technical Specifications
Lifting Capacity: 3,098 kg / 6,830 lb @ 4.7 m / 26' 7" + 1,420 kg / 3,130 lb @ 15.7 m / 51' 6"
Max Hydraulic Outreach: 16.1 m / 52' 10"