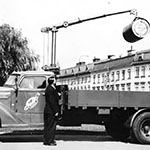 THE FIRST HIAB CRANE – THE FIRST OF MANY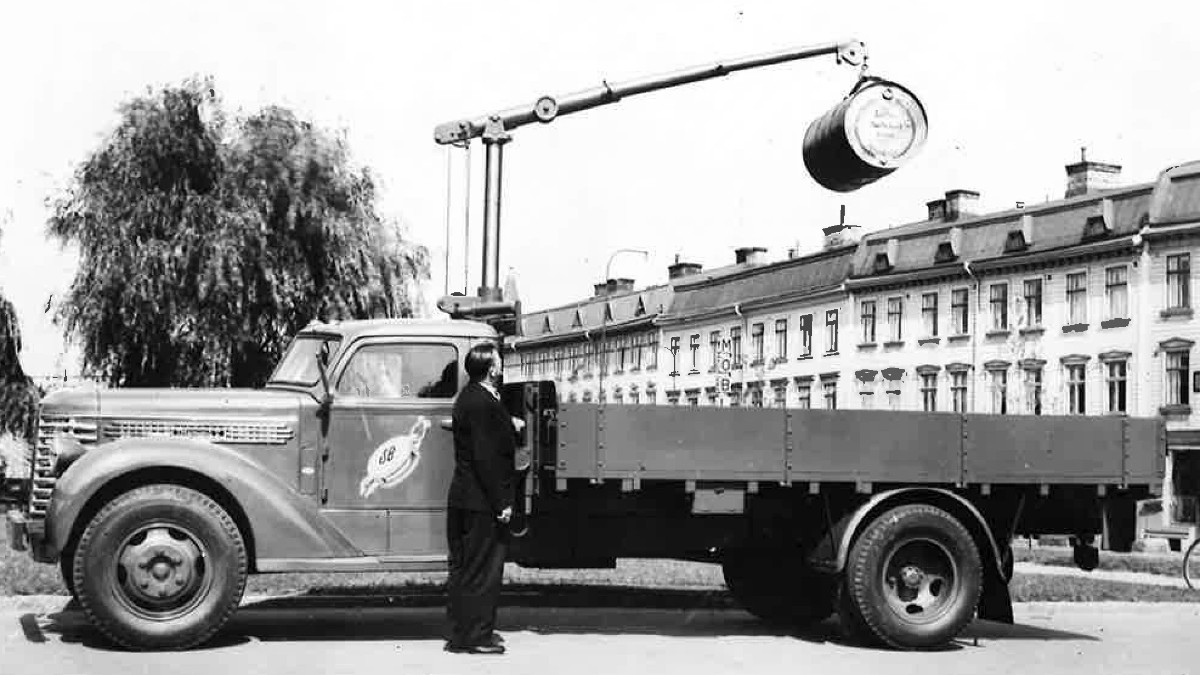 With over half a million HIAB truck cranes delivered to customers in more than 120 countries, it's easy to forget that number started 79 years ago with just one – the HIAB 190. So we were excited to come across these HIAB images and promotional graphics from the 1940s.
HIAB founder Eric Sundin began work on the world's first hydraulic crane, the HIAB 190, in 1944. Three years of development and improvements later, it was launched at the international Sankt Erik's Fair and ready for mass production.
HIAB promoted its new articulating crane for a variety of purposes that were a sign of the times: excavation work, where "great lifting height is essential," unloading and stowing boxes and cases on railway freight cars, handling paper bales and reels, which "do not permit the use of hooks or bars," loading gravel and sand, and loading and unloading oil barrels and similar objects. It offered a 3.5-metre long arm for timber loading, and the HIAB 190 could even be installed on a tractor.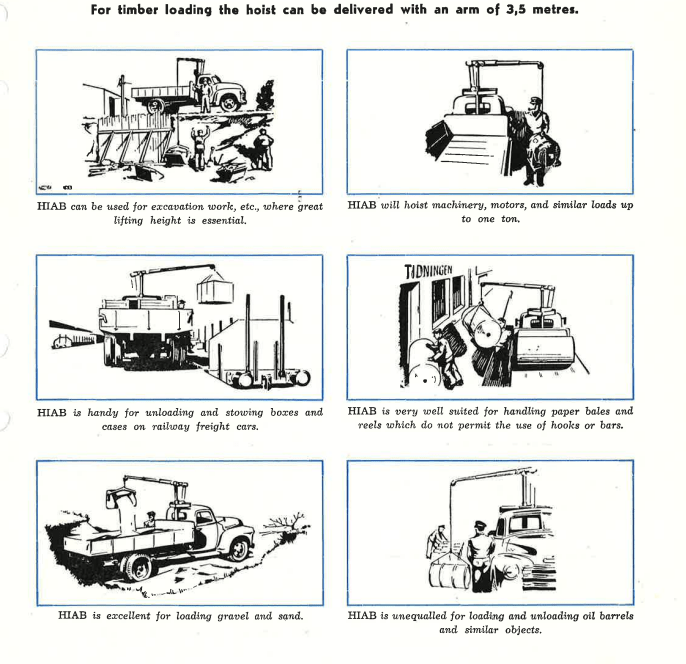 Customers were encouraged to install the crane equipment on their trucks to 'try before they buy' – and they did. The HIAB 190 was an immediate hit, and it was said that every second truck in northern Sweden soon had one installed. The crane had a mere one-tonne capacity, but it allowed "one man to do the job" of many and changed how businesses operated. Watch this video to see why this machine became the first of many.
The HIAB 190 was in production for seven years, from 1948 through 1954, and the brand gained global renown. By 1952 HIAB had a staff of 120 in a new office and factory, a turnover of almost SEK six million and was exported to 33 countries.
HIAB kept in touch with its customers and sought honest feedback for ongoing improvement. The company then launched the HIAB 192 and 193 – a massive commercial success with production spreading to France, Italy and South Africa. By 1969, 42,614 HIAB cranes were lifting loads in several countries.
The HIAB 190 was the world's first hydraulic truck-mounted crane – and the first of many more to come. Today, we sell 107 different HIAB truck-mounted crane models in Canada, with new models and features introduced all the time.