Atlas Polar Seeking a Technical Outside Salesperson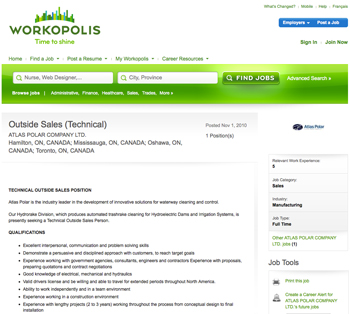 Atlas Polar's Hydrorake Division, which produces automated trashrake cleaning for hydroelectric dams and irrigation systems, is currently seeking an experienced technical outside salesperson.
Atlas Polar is an industry leader in the development of innovative solutions for waterway cleaning and control. Products in the Hydrorake Division include: the Hydrorake trash rake, used in water intakes, hydroelectric dams, and fish processing plants; Hydrobrush systems, used in fish monitoring and transfer facilities; and stop log lifter systems.
The ideal candidate for this position has the requisite technical knowledge and at least five years of experience in outside sales, preferably in a construction environment. This person also has experience working on long-term projects and has worked with government, contractors, consultants and engineers. A driver's license is required and the job includes extensive travel.
The technical outside salesperson will have many responsibilities, including: performing cold calls and seeking out other applications for our products; meeting sales targets and project deadlines; assisting with marketing by attending trade shows and making sales presentations; and providing support, troubleshooting, training, and part sales for the products.