Atlas Polar Now Hiring: Product Support Technician/Technologist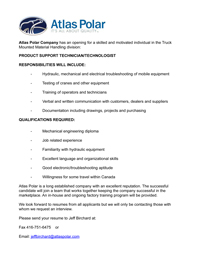 Atlas Polar is currently hiring for a Product Support Technician/Technologist in our Truck Mounted Material Handling division.
The job involves hydraulic, mechanical, and electrical troubleshooting of mobile equipment and testing of cranes and other equipment. The position includes training of operators and technicians, and communication (written and verbal) with customers, dealers and suppliers. The position also has responsibilities documentation, specifically drawings, projects, and purchasing.
Those interested in applying should have a diploma in mechanical engineering, excellent communication and organizational skills, experience related to the position, knowledge of hydraulic equipment, and skills in troubleshooting. The position requires some travel within Canada.
Full details are available in the job posting.