New Front Discharge Mixveyor: Innovative Technology Making Short Work of Long Reaches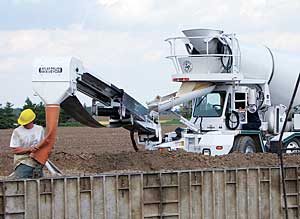 If your ready mix business is looking for an economical way of streamlining your operations (and what business isn't in this economy), it is a safe bet that you will want to take a look at the new Front Discharge Mixveyor conveyor.
So what makes the Mixveyor so great? Well, to begin with, it is unique because it is the only concrete conveyor belt system that mounts to the front end of a mixer. It also features a "Single Beam Design" that utilizes tubular construction and hi-tensile steel to increase strength and reduce the overall conveyor weight. Another great feature of the Mixveyor's superior design is that it is compactly stored in an optimal position to seriously reduce the typical wear and tear that conveyor systems face when not in use. Oh, and let's not forget the Polar radio remote control operation!
Of course this is just the beginning of the features and benefits of owning an operating a Mixveyor. Check out our website for more information on our new Front Discharge Mixveyor conveyor.