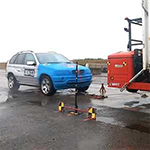 MOFFETT E-SERIES' NX SAFETY VERIFIED IN MIRA CRASH TESTS
Everyone is excited about electric vehicles and their positive impact on the climate crisis. We're pleased about the new Moffett e-Series NX models – the world's first emission-free, all-electrical truck-mounted forklifts – and their role in achieving Cargotec's commitment to the UN Global Business Ambition for 1.5˚ campaign.
Like all Moffetts, the e-Series truck-mounted forklifts quickly, safely and efficiently load and unload materials for all kinds of industries and purposes. They just do it more sustainably – all-electric, emission-free and near silent. And like other Moffetts, the e-Series mount securely to the back of the truck for transport from one site to the other.
But we all know that driving our roads and highways is not always as safe as it should be. Accidents happen. So what happens to a Moffett e-Series NX and its lithium battery pack in a crash? Moffett took it to the renowned HORIBA MIRA crash test laboratory to find out.
A Moffett e-Series NX forklift was mounted on the back of a truck and subjected to a 60km (40m) per hour rear-end collision 500 mm from the ground. The well-documented test results show no damage to Moffett's battery enclosure.
The design and construction proved solid and robust, but that was no surprise to the folks at Moffett. Moffetts are renowned for their safety and the lengths they go to in testing every aspect of their truck-mounted forklift models – they leave nothing to chance or guesswork.
Before heading to Horiba Mira, Moffett engineers designed and stringently tested the e-Series NX to ensure all the structures around the battery were strong enough to withstand a crash safely. Battery cells and fuses were encased in plastic modules and then contained in a sealed steel box. The main chassis' durable structure ensured the box was fully secure, and the entire unit was subjected to a detailed FEA computer analysis.
The Moffett e-Series NX forklifts have been put to the ultimate crash test and have passed with flying colours.