Atlas Polar, HIAB and the Canadian Forestry Industry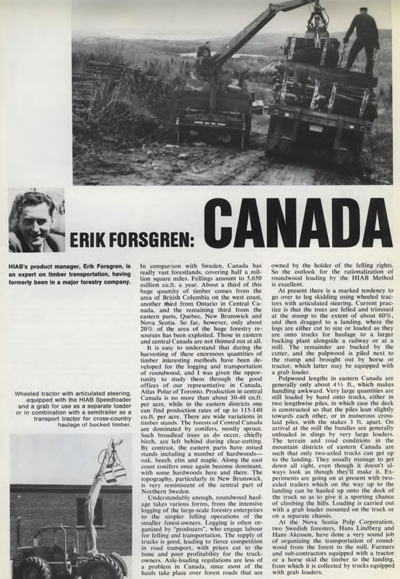 Back in 1966, HIAB product manager and timber transportation expert, Erik Forsgren, visited Canada to study the methods used to transport timber from logging operations around Canada. He was "given the opportunity through the good offices of [HIAB's] representative in Canada, Atlas Polar of Toronto."
At the time, trucks were often loaded by hand—not the speediest of loading methods. The article in the attached copy of HIAB Method magazine also notes that competition between trucking companies was fierce, so any efficiencies that could be realized would be have certainly been welcomed.
To help make transportation faster and easier, the article notes that experiments were going on with two-axled trailers and a HIAB Speedloader equipped with a grab loader. It seems the results of their experiments were promising and the Canadian forestry industry was about to see improvements in its load handling capabilities.
Since then, Atlas Polar and HIAB have continued to work together to help Canadian companies in all kinds of different industries become more efficient.
If you are in the materials handling business and want to learn more about the wide selection of HIAB truck cranes available in Canada, we invite you to visit our truck mounted cranes page.