Hooklift XR14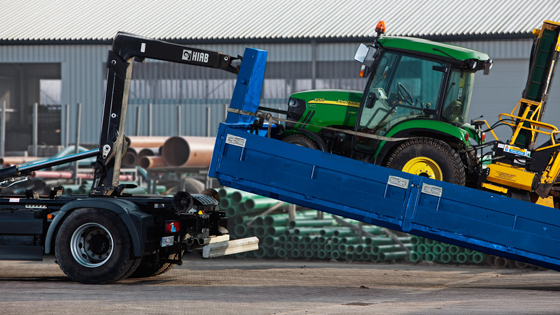 PLC operated electronic controls (reliable and ergonomic).
Extensive range of models for almost any body size range.
Low installation weight with high capacity.
Designed for 2-axle 19 GVW trucks, the XR14 hooklift offers tremendous strength in a low weight package and excellent overall performance. As part of the XS Power hooklift range, it follows the same build principles as other XR Power hooklifts and includes the unique Programmable Logic Controller (PLC).
Other features include:
Low weight for its lifting capacity to maximize payload potential
High quality top coat painting as a standard feature
Innovative options, like automatic sequence control, fast speed, fast tipping and friction relief to ensure a frictionless body change
Options can be selected independently to meet your exact needs
Multilift hooklifts are known for their rugged design and ease of use. Exhaustive field and fatigue tests demonstrate the durability and reliability of the XR14' control system and steel construction.
The XR14 comes in five models, each with varying body length and horizontal movement. System weight ranges from 1600 kg to 1840 kg (including hydraulic body locking and excluding oil tank and oil), with a lifting capacity of 14 tons.
This superior performer will boost your productivity while giving you the flexibility you need to customize your hooklift for use in a wide range of applications.
Technical Specifications
Vehicle Type: Tandem Axle
Max load: 15,876kg / 35,000 lbs