M5 50.4PL (4-Way + Pantograph with Lift Assist®)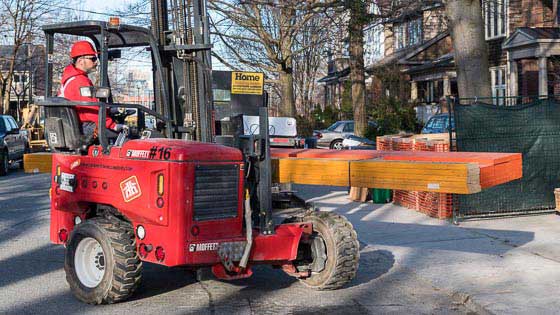 Ultimate Delivery Moffett with outstanding 4 Way control and same-side reach across deck
Better Handling of Long Loads in tight yards and through narrow doorways
Extra Versatile Same-Side Unloading with full reach and lift across the deck, even double-stacked
Purchase with Confidence as Moffett has the highest re-sale value in the market
When you need a forklift with superior lifting strength and the ability to handle loads in the narrowest of spaces, the Moffett M5 50.4PL provides the best of both worlds. This versatile, multi-directional truck mounted forklift offers four way handling and includes the Pantograph Reach with patented Lift Assist® system. The M5 50.4PL is ideal for delivering long loads and with its versatile same–side unloading feature, you'll experience the ultimate in convenience.
The Moffett forklift integrates easily and efficiently with your truck or trailer, putting you in complete control of your delivery system. Superb performance and reliability are the keys to this forklift's success day in and day out and you can always expect the very best in standard equipment from your Mounty M5 50.4PL:
Powerful Kohler T4F diesel engine
Full-time all-wheel drive system
Differential lock
Hydraulic stabilizers
Seat belt
Safety door with arm rest
Work lights
Flashing beacon & backup alarm
ROPS and FOPS certified overhead guard with rain shield.
Technical Specifications
Lifting Capacity: 5,000 lbs. @ 24" load centres
Lift Height (std.): 3040 mm / 120 in.
Engine Power: 48 HP Turbo (Tier 4 Final)