XS 622 Truck Crane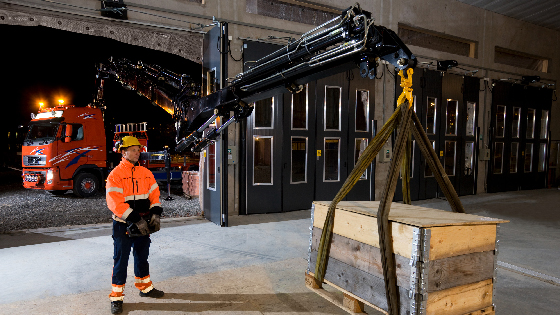 Longer outreach, higher precision and smoother operation than any other crane in the 58 tm capacity class
Optimized for heavy vertical lifts, like boats and containers and is ideal for heavy installation work
Effortless lifting of heavy loads straight up to high places with HIAB's HiPro control system and E–link
Ultimate flexibility by adding a jib that can be angled 25 degrees upwards for roofing and Installations work
Reduce fuel consumption and extend the life of your crane with the XS 622's installed variable pump
HIAB introduces a new heavy lifter with state-of-the-art features: new boom system and cylinders, better couplings and seals, HiPro control system and variable pump as standard. The new HIAB XS 622 provides a longer outreach, higher precision and smoother operation than any other crane in the 58 tm capacity class.
The XS 622 is optimized for heavy vertical lifts, like boats and containers. It is ideal for heavy installation work. HIAB's HiPro control system and E–link, which allows for lifting heavy loads straight up to high places, are standard. The boom system boasts additional side supports for enhanced stability.
By mounting a HIAB Jib 150 X on the crane, loads can be placed in spots previously inaccessible for a crane this size. In the most powerful configuration the maximum outreach will be 32 metres. The jib is exceedingly flexible and can be angled 25 degrees upwards for roofing and Installations work.
Thanks to new E02 couplings, new seals and optimized piping diameters ensuring that the equipment is kept cool, the HIAB XS 622 has less risk of leakage and longer service life.
The variable pump on the crane means dramatic reductions in fuel consumption. The variable pump also keeps the hydraulic system at least 20°C cooler, extending the life of the crane's hydraulic system. Even with all of these features, the XS 622 has a low weight for its size, making transportation easier.
The HIAB XS 622 truck mounted crane: fast and durable with smooth, precise operation.
Technical Specifications
Lifting Capacity: 10,100 kg @ 5.1m / 1,580 kg @ 22.2m
Max Hydraulic Outreach: 22.7m / 32.5m (jib)