XS 044 Truck Crane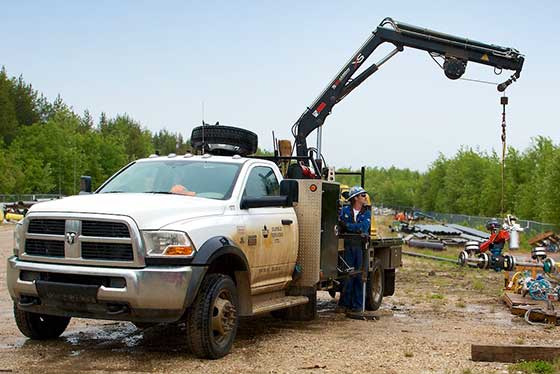 Save Time using a reliable HIAB crane for job site deliveries.
Be More Productive and Reduce Costs by delivering more product with fewer trucks.
Purchase with Confidence as HIAB has the highest re-sale value in the market.
Total Coverage with the strongest truck mounted crane sales & service network in Canada.
Versatility and power. The HIAB XS 044 provides all of that and a lot more.
In its simple but sleek design, the XS 044 offers flexibility and strength in a compact size. With vertical placement of levers, there is more room for payload. And with its small profile, it is perfectly suited to crowded or awkward spaces.
The XS 044 is a modular crane with options that enable you to customize it for your line of work:
Choose one of two boom options: the B–boom with no link; the D–boom with an external link.
The B–boom includes one or two extensions; the D–boom includes 1, 2, 3, or 4 extensions.
Choose one of three high–quality HIAB control systems: the cost–effective CLX with V30 valve; the Duo with V30 valve; or the sophisticated HiDuo with XSRemote Control and V804R valve.
The V30 valve is an innovation introduced with the XS 022–044 line of cranes. It is suitable to lower oil flows and, being placed in vertical position, it maintains the dimensions of the crane base.
The XS 044 is part of the HIAB 2–4 tonne metre family. As with the other cranes in this family, it is constructed with a solid casted base that provides greater stress distribution and strength while extending the life of the crane.
Other design considerations make service and maintenance easier – hydraulics and pressure gauges are easily accessible for so there is less downtime during service.
If you want maximum versatility in a small package, try the HIAB XS 044.
Technical Specifications
Lifting Capacity: 980 kg @ 3.5 m / 330 kg @ 9.1 m
Max Hydraulic Outreach: 9.4 m