X-HiPRO 548
CAPACITY TO THE MAX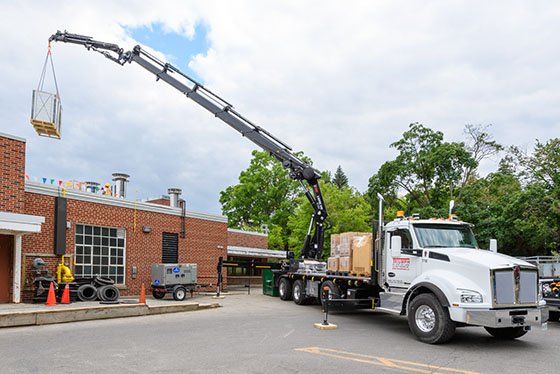 Up to 20% more power to move heavy bulk fast with optimized short boom
Save thousands of litres + $ per year with optimal fuel consumption
Optimized oil flow = less fuel, less waste, less time, longer life + fewer emissions
Save time – Perform multiple crane movements simultaneously
Total precision, speed, productivity, safety and control for demanding situations
Easy to mount, maintain, access, operate and own for a lifetime
Maximum capacity
The X-HiPRO 548 is the lightest of HIAB's 'Big Five' compact heavyweight remote-controlled cranes, but there's nothing lightweight about it. With a huge 9.9 tonne (9900 kg) capacity, the X-HiPRO 548 is set to heft heavy, bulky loads in close – smoothly and safely with power and speed – no matter how tough the conditions. An E-link boom system takes that capacity to the max in high-boom positions, especially close to the column.
Maximum stability for huge payloads
Cranes are used in dangerous situations where stability is crucial, and operator error can be critical. So the HIAB X-HiPRO 548 has integrated new features designed with the operator, and the payload, in mind. Easy-tilt auxiliary legs are integrated into both the hydraulic and electronic systems for critical support and control. They work with the crane's Load Stability System (LSS), which automatically senses and counteracts abrupt stops that cause the load to swing – no action required by the operator. Add on the available VSL+ safety system to maximize stability even more. It automatically senses leg positions and adjusts the crane capacity to leg positions and the truck's total weight.
Maximum payoff with fast, easy set-up, storage + operation.
More capacity and less weight maximize fuel economy. And the perfect weight-to-capacity ratio makes the X-HiPRO 548 a dynamo on mining sites and other tough jobs where huge, heavy loads are the norm. Do more faster: its integrated sub-frame reduces delivery and installation times. A 9-metre chain-driven stabilizer doubles the speed and halves extension time, making set-up and stowing time quicker and easier, and ensures the best possible rigidity in any possible position. A new base-mounted oil tank makes installation, access and maintenance easy too. And the V200 valve delivers much higher oil flows, lower oil temperatures, less wear + tear, fewer emissions and maximum speed.
Equally important, the X-HiPRO 548 operates on HiPRO, the industry's most advanced remote control system. Levered or with the available joystick, a touch of its XSDriveTM and your crane responds to more than 30 different functions, many simultaneously, and sports a built-in intelligence system for exact load handling. In addition to capacity-increasing Automatic Speed Control (ASC), the X-HiPro 548 features Pump Flow Distribution (PFD), so it has no sudden and unanticipated load accelerations – just smooth performance.
Maximum value
The HIAB X-HiPRO 548 keeps working – every day, year after year. High-tensile steel, high-quality parts, reliable seals and protective covers that resist weather and impact, and an iron-tough, anti-corrosive patented nDuranceTM finish maximize value for your business – from purchase to resale.
Technical Specifications
Lifting Capacity: 9600 kg @ 4.7m / 1380 kg @ 21.7m (HIAB X-HiPro 548 E-9)
9900 kg @ 4.6m / 1720 kg @ 19.6m /
440 kg @ 22.7m / 230 kg @ 31.6m (HIAB X-HIPRO 548 E-8 + JIB 150X-6 JDC)