X-HiPro 1058 Truck Crane
Super Powerful. Super Savings.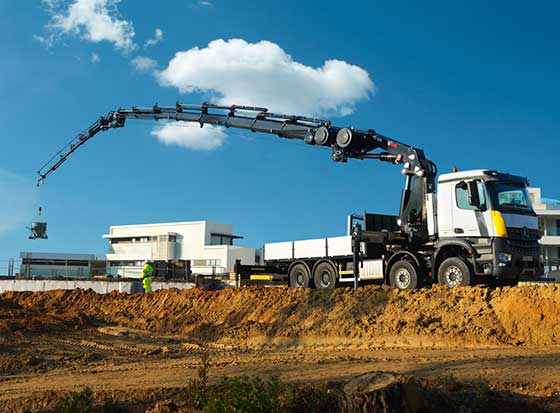 The biggest HIAB heavy capacity crane yet – 90tm capacity – for heavy, bulky loads. It can extend out 34.5m and up to a height of 38m

40% lower installation costs – save approximately 180 hours over a standard crane
Lower lifetime ownership costs
Maximum stability and maximum height – even in confined spaces – with new VSL+
Pinpoint precision + stability with no operator correction – even at full reach – with the new LSS stability system
The HIAB X-HiPro 1058 is the biggest high-capacity truck-mounted crane yet. It has a host of new features that add value and profitability to your business: It's faster, cleaner, more precise and more stable than ever – even in tight situations – with an unprecedented capacity, horizontal and vertical reach.
New features offer greater safety, flexibility + stability to protect your product, your equipment and your business
Easy-tilt auxiliary legs can be hydraulically tilted for quick, easy control, and are integrated into the hydraulic and electronic systems for critical support. The new VSL+ safety system automatically senses leg positions and adjusts crane capacity to actual load stability. And the new LSS stability system automatically senses unintentional lever movement and counteracts it – with no operator correction.
Set up, load and unload more quickly and easily
A new bolted, integrated sub-frame lets your crane act as a single unit, ensuring a perfect fit and minimizing delivery and installation times. A new base-mounted oil tank means simpler installation, easier access and maintenance. And setting up and stowing become infinitely faster with a new 9-metre chain-driven stabilizer span that nearly doubles extension time, and an easy folding jib system that lets you fold your crane without having to remove hoists and pulleys.
9-metre chain-driven stabilizer span almost doubles extension speed + saves time
Auxiliary easy-tilt stabilizer legs support heavier loads + make set up easier
New features that let you load and unload more quickly and easily with greater safety, flexibility + precision
Plus all the safety, durability, quality + performance features unique to HIAB cranes + all the value, nationwide service and support you've come to expect from Atlas Polar
Innovations that add to the lifetime ownership costs
These new innovations build on HIAB's already unparalleled features, like Automatic Speed Control, Space 5000 intelligence, Pump Flow Distribution, Full Sequence Cylinders and Boom Deployment Assistant. They bring value – at work every day and in the long run – even to resale.
Technical Specifications
Lifting Capacity: 18,000 kg @ 4.7 m / 3,450 kg @ 19.4 m
Max Hydraulic Outreach: 19.4 m