T-HiDuo 018
LIGHTWEIGHT ADVANTAGES WITH ADDED MUSCLE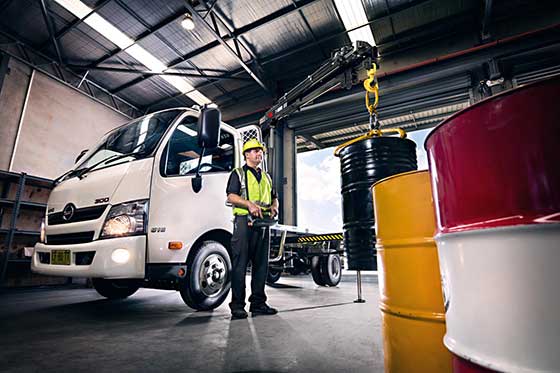 Outreach up to 4.2m and up to 5.3m with hydraulic boom extensions
Lifts up to 1.9 tonnes – more than a tonne up close
Low compact profile folds to fit under your pickup cover
Fast installation time + fewer lifetime ownership costs
Enhanced safety features for total control
High-precision + simultaneous crane movements make positioning perfect
The HIAB T-HiDuo 018 has the advantages of its T-CLX 018 partner but is all about the control. It's the ideal model in this lightweight class to give you added muscle to single-handedly lift medium to heavyweight loads and tackle jobs that need more control and a higher degree of safety. No manual control here – nothing is left to chance. This larger compact lightweight crane still folds up to fit neatly under your pickup cover to maximize space. It lets you get on with the job when you're ready – no wasted time or money waiting around for a forklift or someone else to help. Safely load and unload on your own.
If you're a demanding operator who faces jobs in demanding conditions that require flexibility and total control, the T-HiDuo 018 is made for you. Like the other HIAB T-series cranes with HiDuo control systems, it comes standard with Smart Control™ and remote control with XS Drive Lite™. Together they take the guesswork out of positioning. Simultaneous crane movements and high-precision placement ensure your load is placed exactly where you want it – every time – and gets it there more quickly.
Safety is primary with HIAB, and the T-HiDuo models take safety to the next level with enhanced safety systems. Smart Control™ also adds stability logic, a high-boom warning and additional safety features.
Increased productivity and perfect placement make the T-HiDuo 018 a cost effective choice. Adding the optional HIAB HybridDrive™ feature will save you even more. HIAB HybridDrive™ allows you to load and unload with the engine off. Save fuel, emissions and, by minimizing noise, you gain flexibility to load and unload anytime – even late night or early morning deliveries.
Like all the T-series cranes, the T-HiDuo 018 is durable, tough and tremendous value. A moisture-repellent cast base and high-tech anti-corrosion finish equal trouble-free ownership that will keep your crane looking good for a lifetime. It's easy to configure. Easy to install. Easy to own (ask about our in-house financing). And easy to care for thanks to Atlas Polar's unparalleled national service network.
Choose the HIAB T-Series crane that's right for you.
It's easy to choose your ideal HIAB T-series crane. First decide how much or how little you want to lift, and how and choose from six capacity classes. Next, choose your control model: CLX or HiDuo. If you have a smaller pickup with a smaller platform, the CLX is made for your everyday needs. Easy to use, its manual steering can convert to basic remote control with an easy added option. HiDuo is made for operators who demand total control and safety in demanding situations. Along with the SPACE system, the remote controlled HiDuo has Smart Control. With it you can perform several crane movements at the same time to load and position more quickly while its high boom alert warns you of obstacles. The HiDuo also comes with XS Drive Lite™ that lets you manoeuvre with pinpoint accuracy from the safest vantage point. Finally, choose your options the innovative and environmentally friendly HybridDrive™ that lets you perform several lifts with the engine off.
Technical Specifications
Lifting Capacity:
1,700 kg @ 1.1 m / 3,748 lb @ 3 ft 8 in
(T-HiDuo 018-1)
450 kg @ 4.1 m / 992 lb @ 13 ft 6 in
(T-HiDuo 018-3)
Max Hydraulic Outreach:
4.2 m / 13 ft 10 in - horizontal (T-HiDuo 018-3)