T-CLX 038
HARD WORKING UTILITY VEHICLES NEVER HAD IT SO EASY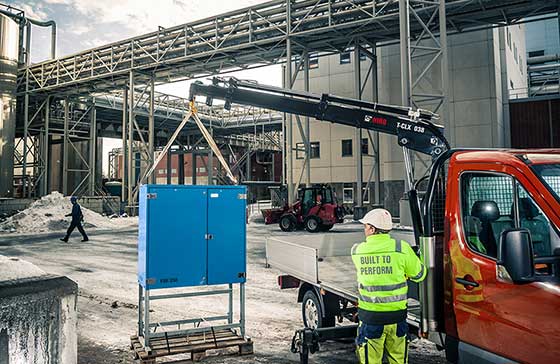 Largest of the lightweight T-series cranes for heavier lifting
Unfolds to lift 2.3 tonnes up close and an outreach of 6m
Fast installation time + fewer lifetime ownership costs
Choose from multiple capacities and up to 4 hydraulic extensions
Save money. Eco-friendly HybridDrive™ lets you lift with the engine off
The HIAB T-CLX 038 is designed for light utility vehicles dealing with every day heavier lifting. Loads like large gardening equipment, medium-sized machinery and building materials are nothing for this lightweight modular crane.
The largest of HIAB's new small T-series lightweight cranes, the T-CLX 038 is value-added in every way – easy to use, easy to install, and easy to configure, and easy to own and care for thanks to Atlas Polar's unparalleled national service network.
It's light, compact and simple to mount. In close it lifts more than 2.3 tonnes in close and four hydraulic extensions carry your load out to almost 7.2 metres. Installation is quick and the fit is always perfect. It's tough, durable and great value too. A moisture-repellent cast base and patented high-tech nDurance™ anti-corrosion finish make for stress-free ownership. Your crane not only lasts, but holds its good value all the way to resale. The HIAB T-CLX 038 also comes with optional HybridDrive™. This feature lets the operator perform multiple simultaneous lifts while the engine is off. And when you can load and unload quietly with no fuel or emissions you're in control of when and how you work, your productivity and your bottom line.
The T-CLX 038 has all the safety and performance features you'd expect from HIAB. But what makes this and all the other T-series models unique is their modular construction. You design your crane to suit your your way of working and business needs. Need a little more control? A simple option quickly converts this model's manual levers to remote control.
Which T-series crane is right for you? It's your choice but here's some help
First, decide how much or how little you want to lift, and how. Next, choose your control model. If you have a smaller pickup with a smaller platform, the easy to use CLX is made for your everyday needs. HiDuo models are made for operators who demand total control and safety in demanding situations. Along with the SPACE system, the remote controlled HiDuo has Smart Control™. With it you can perform several crane movements at the same time to load and position more quickly while its high boom alert warns you of obstacles. Finally, choose from options including HybridDrive™. XS Drive Lite™ – standard on HiDuo – lets you manoeuvre with pinpoint accuracy from the safest vantage point.
Technical Specifications
Lifting Capacity:
2,360 kg @ 1.5 m / 5,203 lb @ 4 ft 11 in
(T-CLX 038-2)
530 kg @ 6 m / 1,168 lb @ 19 ft 8 in
(T-CLX 038-4)
Max Hydraulic Outreach:
6 m / 19 ft 8 in - horizontal (T-CLX 038-4)