T-CLX 023
TAKES YOU FURTHER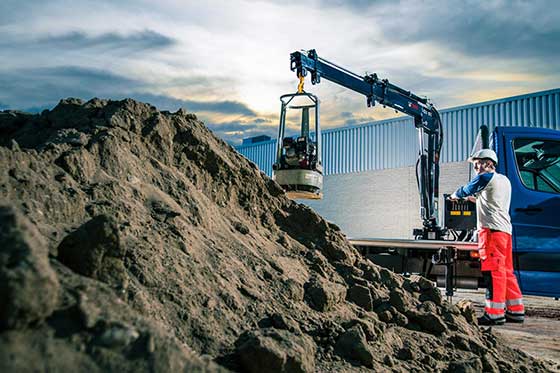 Extra-long outreach – up to 4.4 m
Safely lifts 520kg at full extension
Compact + lightweight– fits just about any flatbed truck
Fast installation time + fewer lifetime ownership costs
Save money: Environmentally friendly HybridDrive™ lets you lift with the engine off
The compact HIAB T-CLX 023 weighs only 419 kg (023-3) and delivers the goods from almost any sized flatbed truck. With an effortless lifting capacity of 520 kg at full 4.4 metre extension, its extra-long reach is ideal for handling barrels, curbstones, manhole covers, pumps, traffic barriers, portable toilets, gardening equipment and more. It's one of HIAB's innovative new modular T-series lightweight modular cranes that let you adapt your crane to your way of working. And it's all about choice.
The T-CLX 023 is safe, flexible and cost-effective. New features like its optional HybridDrive™ help you to be productive any time of day and will really save you money. It allows you to do a number of lifts with the engine off. So you can load and unload quietly with no fuel use. No emissions mean you're saving the environment too. Add productivity savings and even further value with optional features like XS Drive light™. And, like all the T-series cranes, the T-CLX 023 is durable, tough and tremendous value. Its moisture-repellent cast base and high-tech nDurance™ anti-corrosion finish equal trouble-free ownership that will keep your crane looking good for a lifetime.
HIAB is known for its unparalleled safety and value, and the new T-CLX 023 and the other innovative, modular T-series models builds on that. They're easy to configure. Easy to install. Easy to own (ask about our in-house financing). And easy to care for thanks to Atlas Polar's unparalleled national service network.
It's easy to choose a T-series crane that's right for you. Here's how:
First, decide how much or how little you want to lift, and how. Next, choose your control model. If you have a smaller pickup with a smaller platform, the CLX is made for your everyday needs. Easy to use, its manual steering can convert to basic remote control with an easy added option. HiDuo is made for operators who demand total control and safety in demanding situations. Along with the SPACE system, the remote controlled HiDuo has Smart Control. With it you can perform several crane movements at the same time to load and position more quickly while its high boom alert warns you of obstacles. Finally, choose from options including the innovative and environmentally friendly HybridDrive™ that lets you perform several lifts with the engine off. XS Drive Lite™ – standard on the HiDuo model –lets you manoeuvre with pinpoint accuracy from the safest vantage point.
Technical Specifications
Lifting Capacity:
1,620 kg @ 1.5 m / 3,572 lb @ 4 ft 11 in
(T-CLX 023-2)
520 kg @ 4.4 m / 1,146 lb @ 14 ft 5 in
(T-CLX 023-3)
Max Hydraulic Outreach:
4.4 m / 14 ft 5 in - horizontal (T-CLX 023-3)